14 dining ideas for small kitchens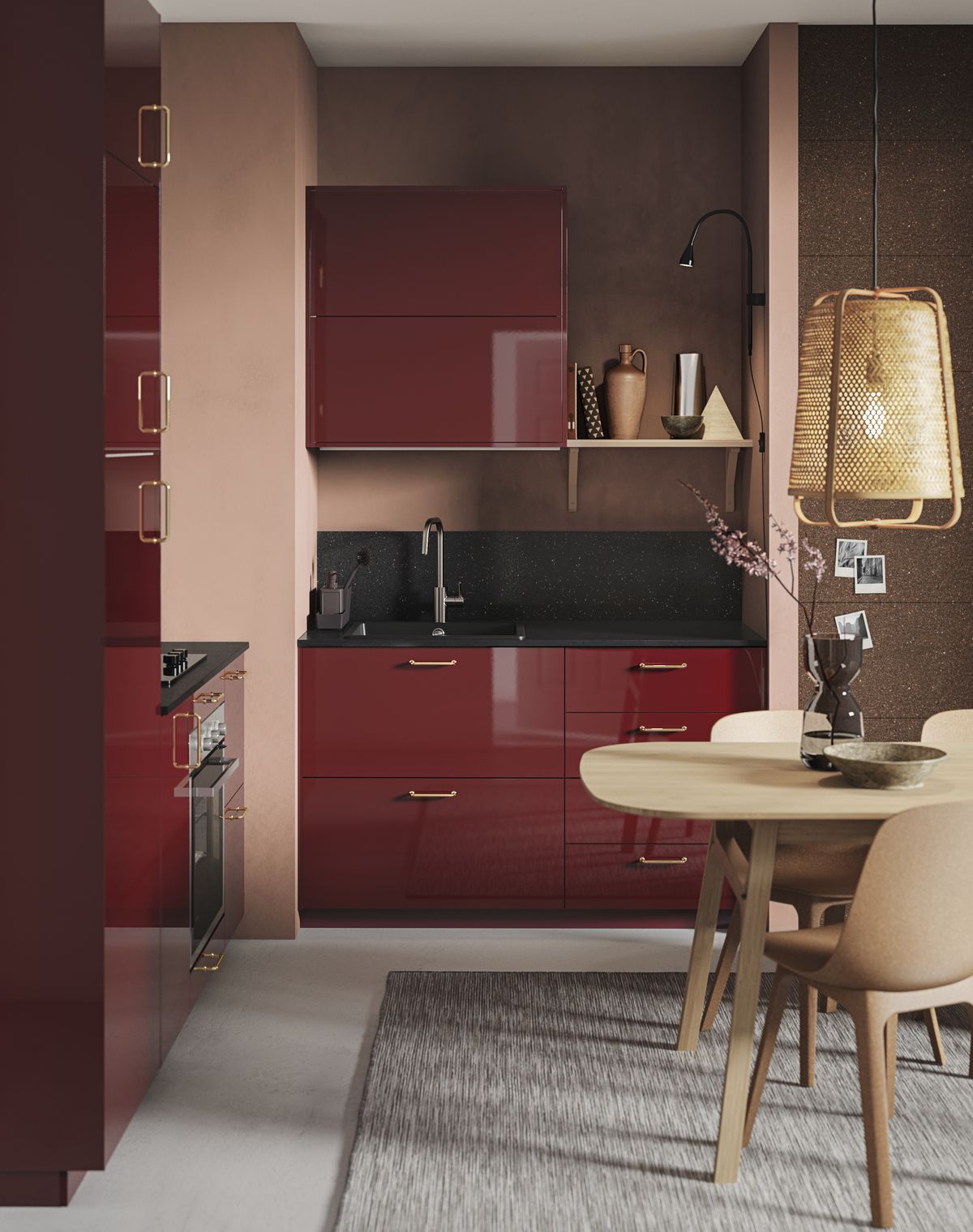 However small your home may be, there should always be a space where you can sit down and enjoy a meal with your family. Sure, the sofa may be comfy and the week's TV listings may offer an easy form of entertainment, but you're missing out on more than just practicing good posture, as dining ideas for small kitchens can be just as stylish as their grandeur counterparts.
When looking for dining room ideas, furniture that is designed for larger spaces may leave you feeling frustrated. Bulky table legs, big chairs and your kitchen's already constricting floor plan can all make things seem impossible but, a few brand experts and home Instagrammers prove how you can get this space right.
Small kitchen dining ideas to enhance tiny spaces
'If your small kitchen has space for a dining table then fantastic,' says Karon Read, kitchen designer, Neptune.
'This goes without saying, but we always encourage extendable tables in a small kitchen so you have that flexibility to entertain larger groups without the fear of where everyone will sit.'
'Try to choose armless dining chairs too so the profile is kept discreet and you're able to neatly tuck them under the table when you're not using them. Every bit of floor space counts.'
1. If in doubt of your small dimensions – go bespoke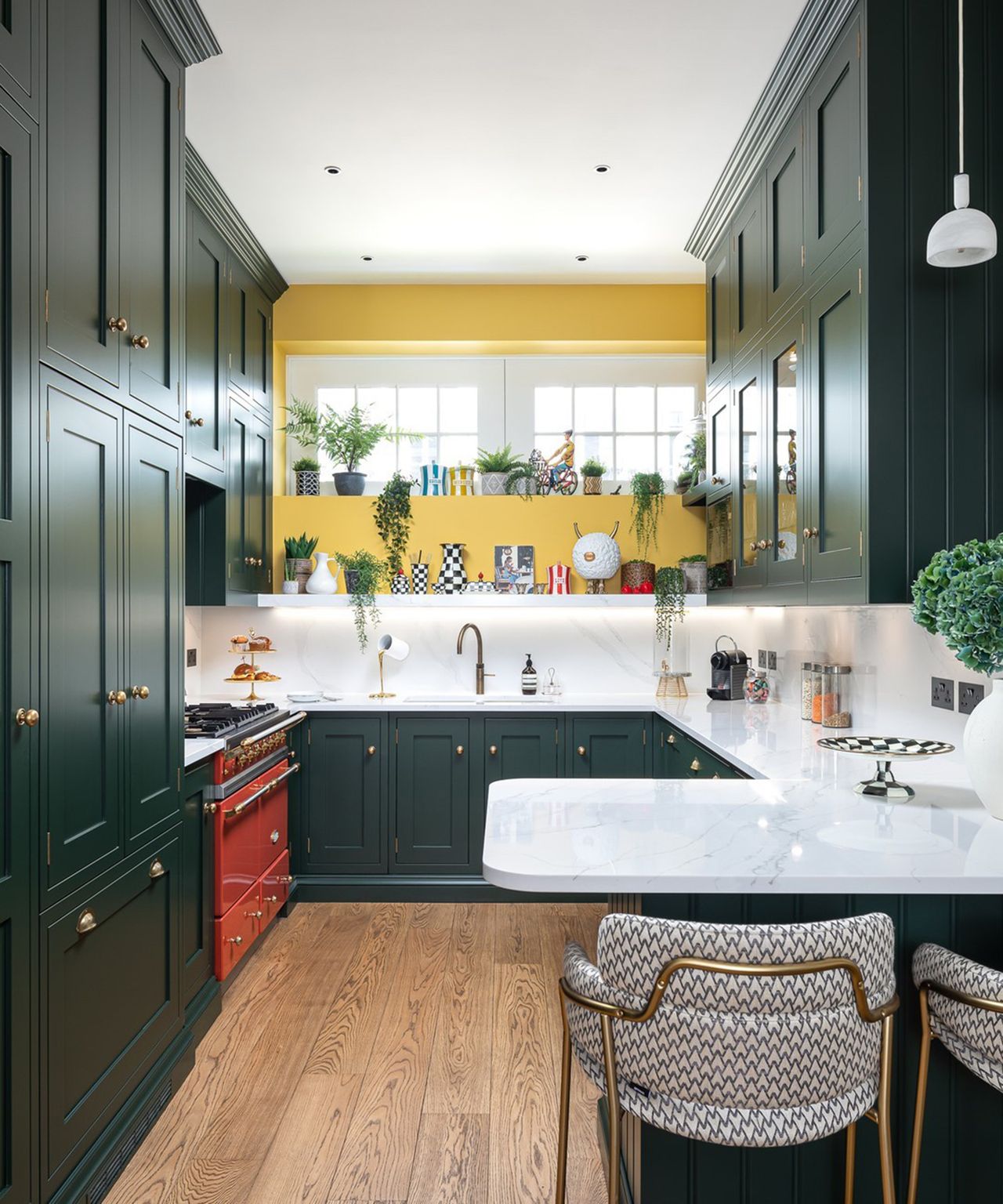 With a well thought out design you really can make the most of a small kitchen design and create a super functional and beautiful space. This fabulous scheme is simply bursting with personality.
Rich forest green paint is paired with in-frame doors and stunning joinery detail creates a sophisticated and grand look. The use of floor to ceiling cabinetry and the added peninsula makes the most of the space and creates ample storage and seating for two.
2. Incorporate the biophillic trend with hanging plants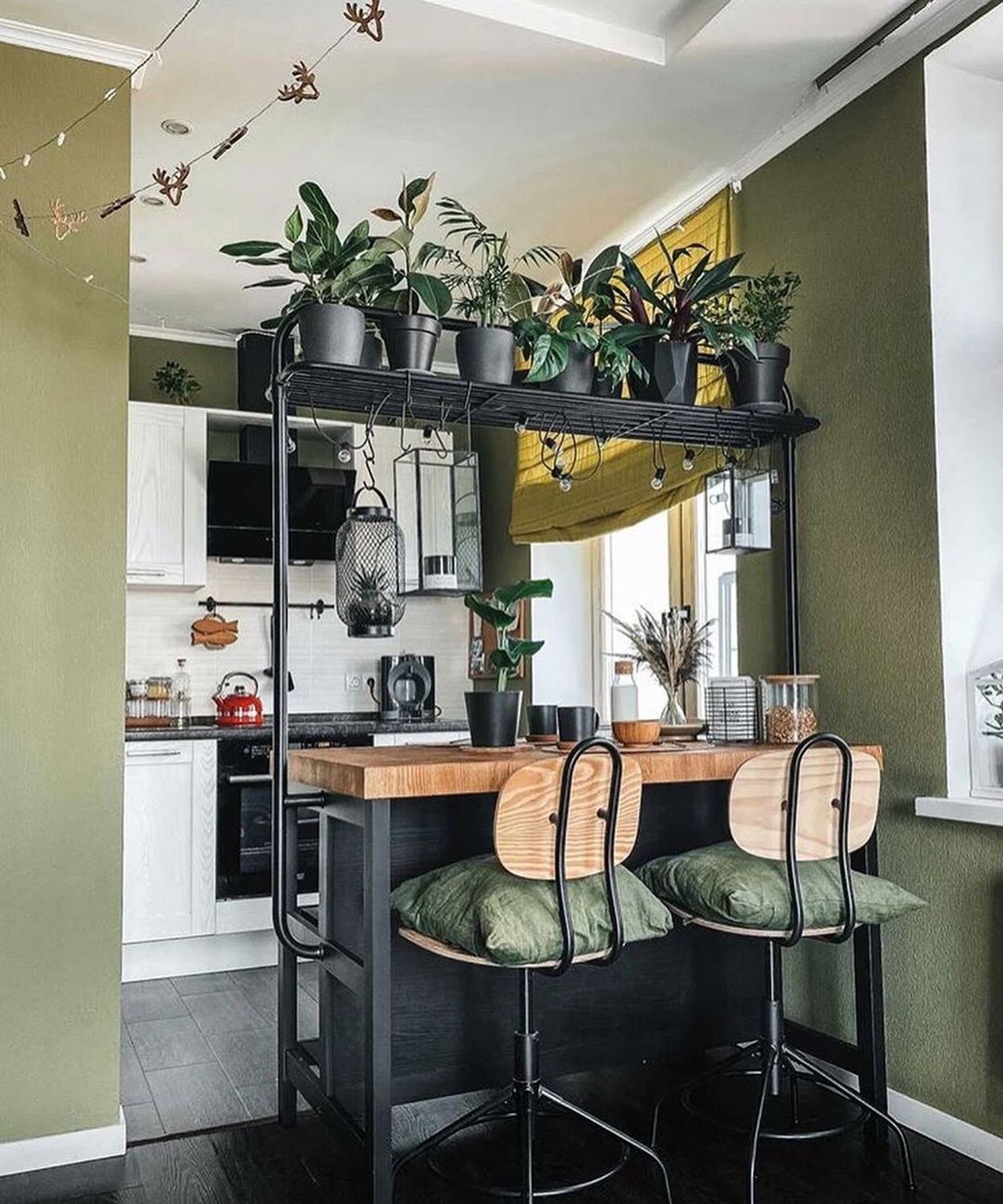 Fresh and herbaceous, green kitchen ideas are so on trend, not only because of their verdant vibes, but also their ability to bring the outdoors in. Big or small, kitchens of all sizes can take advantage of this aesthetic.
In this design by Polina V. Baydak (aka @pinkenigma) uses different khaki-colored hues and textures across her kitchen walls, window treatments and cushions, drawing inspiration from nature to define this space.
As far as dining ideas for small kitchens go, we love the 3-in-1 island design which acts as a worktop, spot to eat and display an array of houseplants on the shelf. The mix of natural and painted wood gives this scheme an organic feel, while the assortment of festoons and lanterns works to layer lighting perfectly.
3. Add softness with color and texture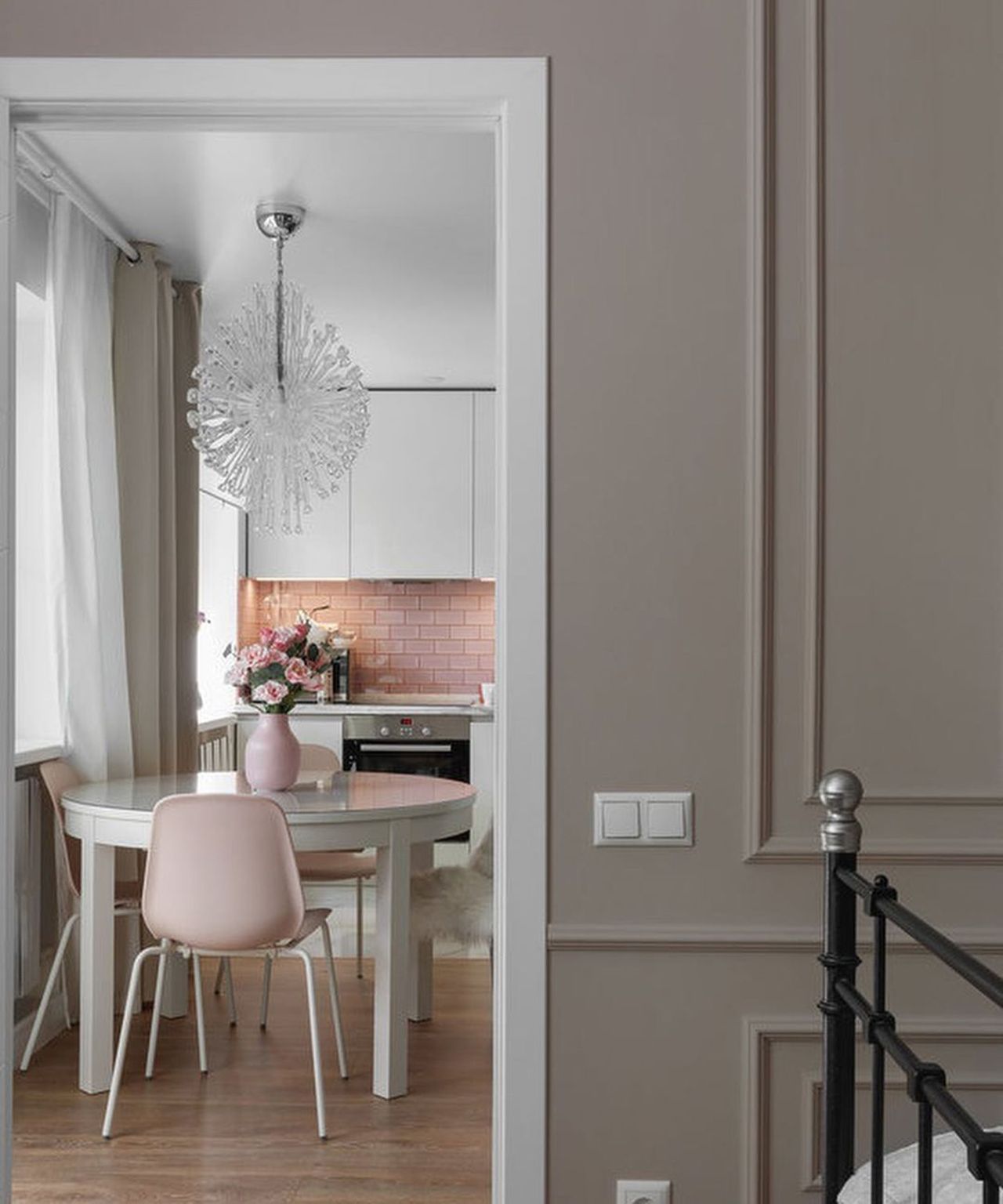 This 43 square meter, pink kitchen was designed by Anastasia Kalistova, founder of Kalistova Interiors for a newlywed couple and we think the furnishings are a match made in heaven.
Accents of pastel pink in the seating, floral arrangement and metro tiles give this eating space a grown-up feel while the glass chandelier hung up high makes mealtime a glamorous event.
We love the way that the taupe curtains are tied into the adjacent room's wall paint to give a sense of cohesion throughout the apartment and allow her dining ideas for small kitchens to seep into other living spaces.
4. Create a bright Scandi-chic space with white decor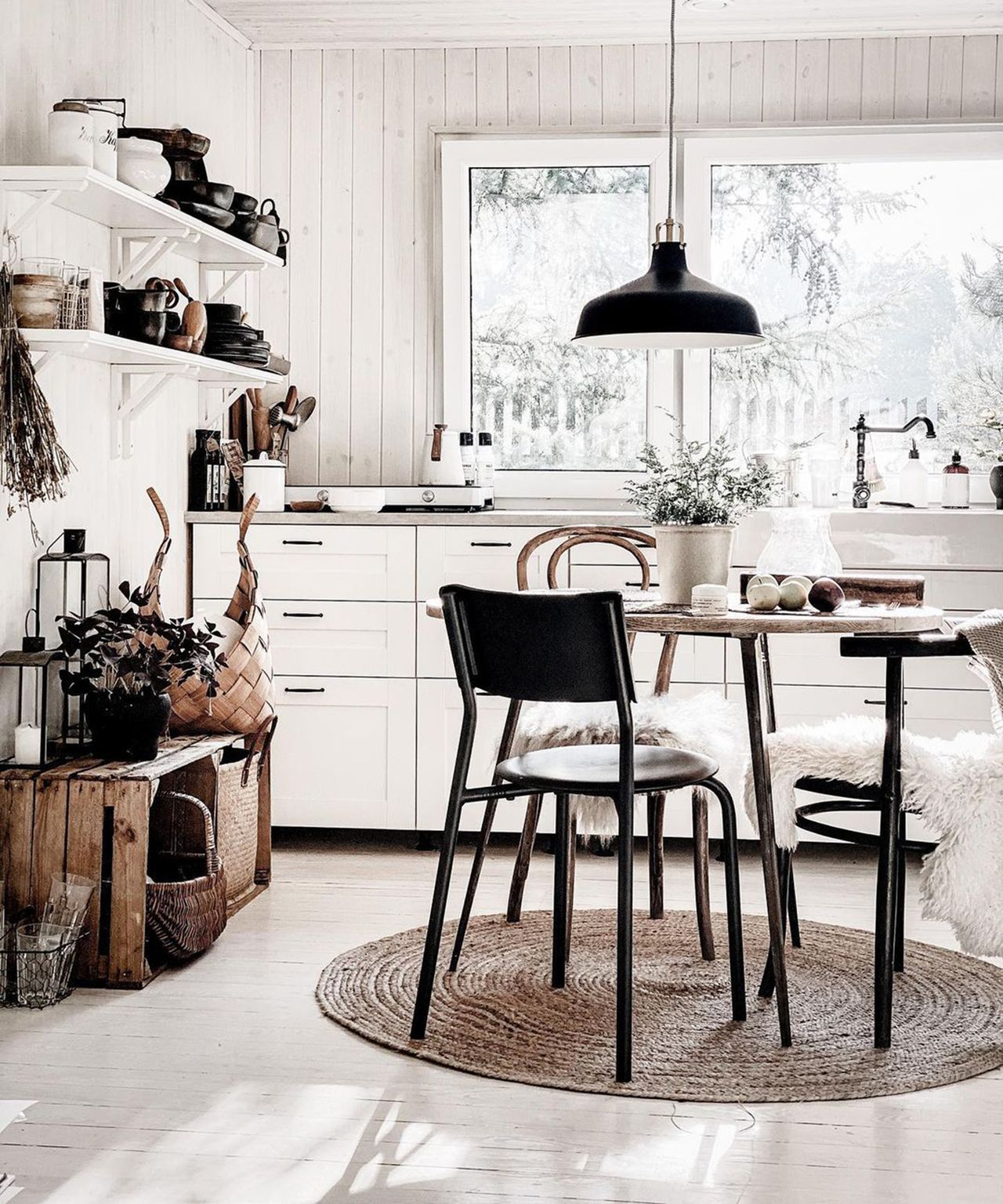 If there's one kitchen color that can help enlarge dining ideas for small kitchens, it's white. Here, Margo Hupert (aka @margo.hupert.art) has used this space-enhancing hue with painted wooden floors, wall paneling decor, shelves and cabinetry that's positioned in front of large-pane windows.
Paying home to Nordic design, she's placed a round wooden table in the middle of the space, and zoned it with a round jute rug for texture. Adding to the tactile theme, black chairs have been softened and draped with faux fur coverings, with fruit and houseplants offering a homely, lived-in look.
Take note of the low-level positioning of the black pendant light which can create an intimate atmosphere in an otherwise whitewashed kitchen.
5. Go country with a dresser and exposed brick decor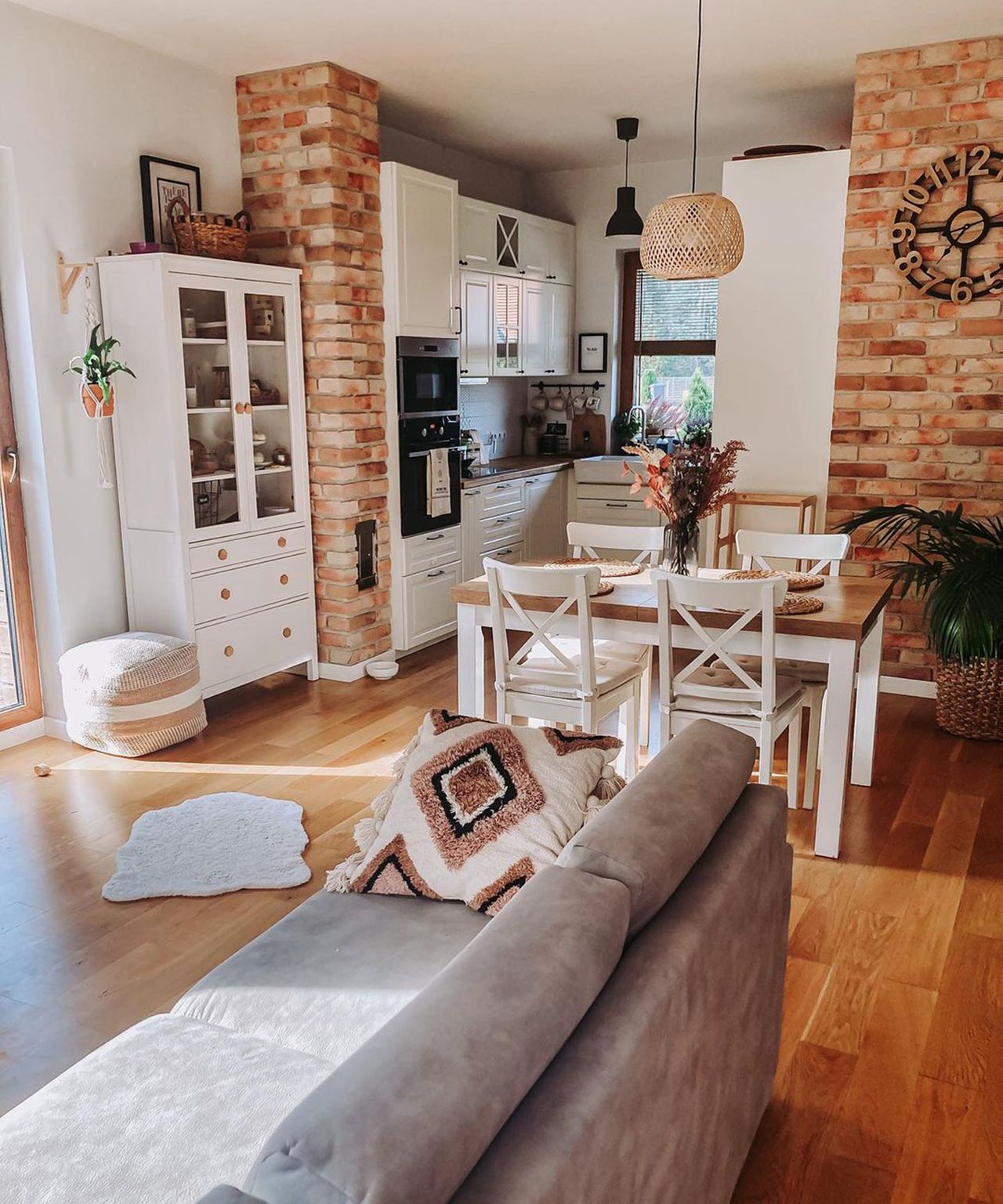 Tiny kitchens are often found in contemporary apartments, designed for modern living. But if you're wanting a more traditional kitchen, knowing how to expose a brick wall can help achieve this look.
When it comes to seating and storage, look to wood as your material du jour. Not only is it hard-wearing, but depending on the finish you go for, you can either create a modern traditional farmhouse feel, or go full-on rustic with distressed or reclaimed furniture.
Kasia (aka @sto_widokow), puts the finishing touches on her Polish kitchen by introducing dried flowers, hanging houseplants and palms to enhance an already-welcoming atmosphere.
6. Add definition via black accents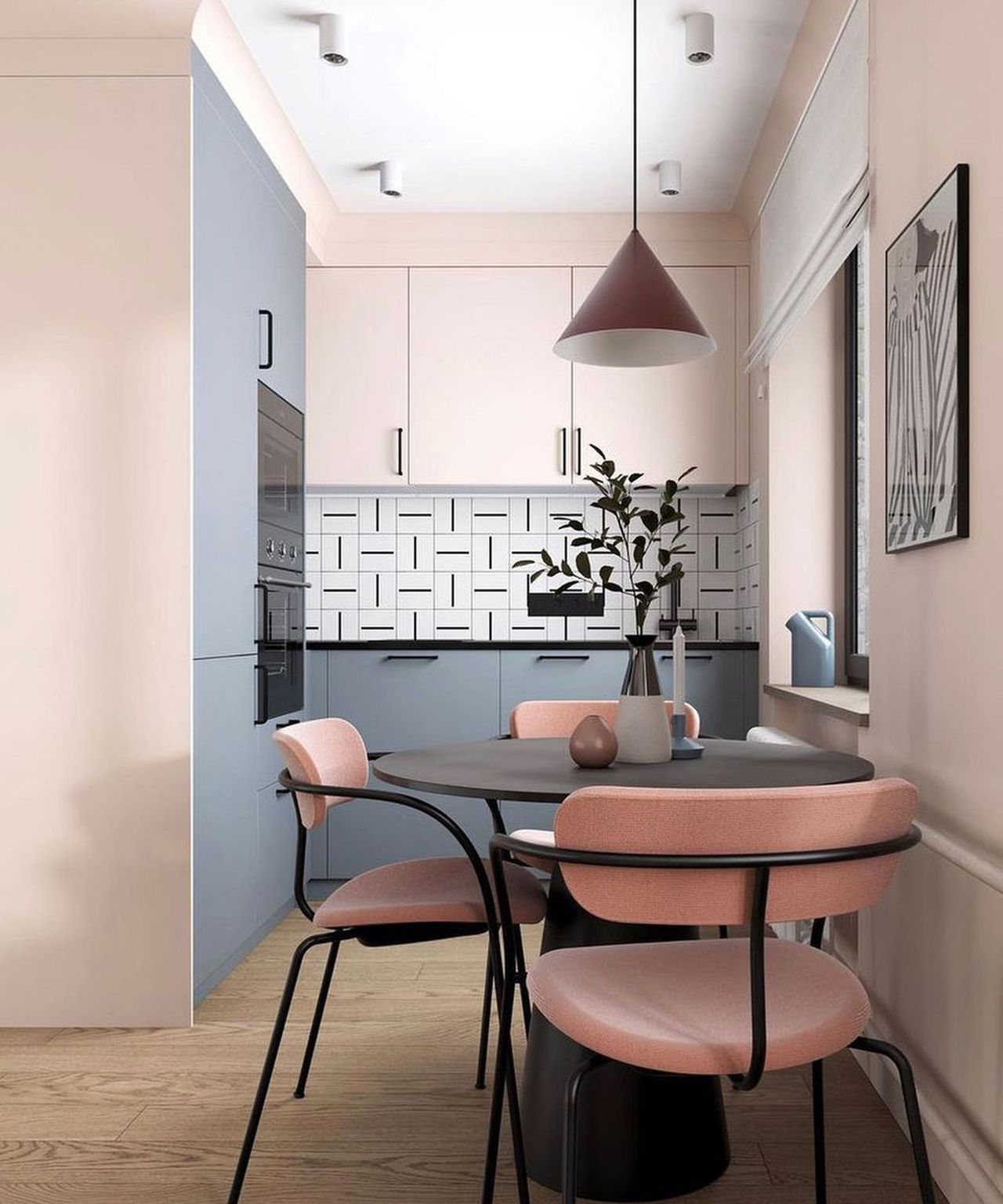 We must admit, we're like kids in candy shops when it comes to dining ideas for small kitchens – especially with this cute pastel pink and blue kitchen.
But instead of feeling saccharine and childish in style, this swish kitchen design by interior designer Sveta Khabeeva incorporates clever use of black and white graphic tiles, a simple black table, monochrome wall art to give it contemporary appeal. Curvy but clean silhouettes in cone-shaped lighting, vases and candlestick holders add color and interest to this subdued scheme. 
7. Keep your dining area central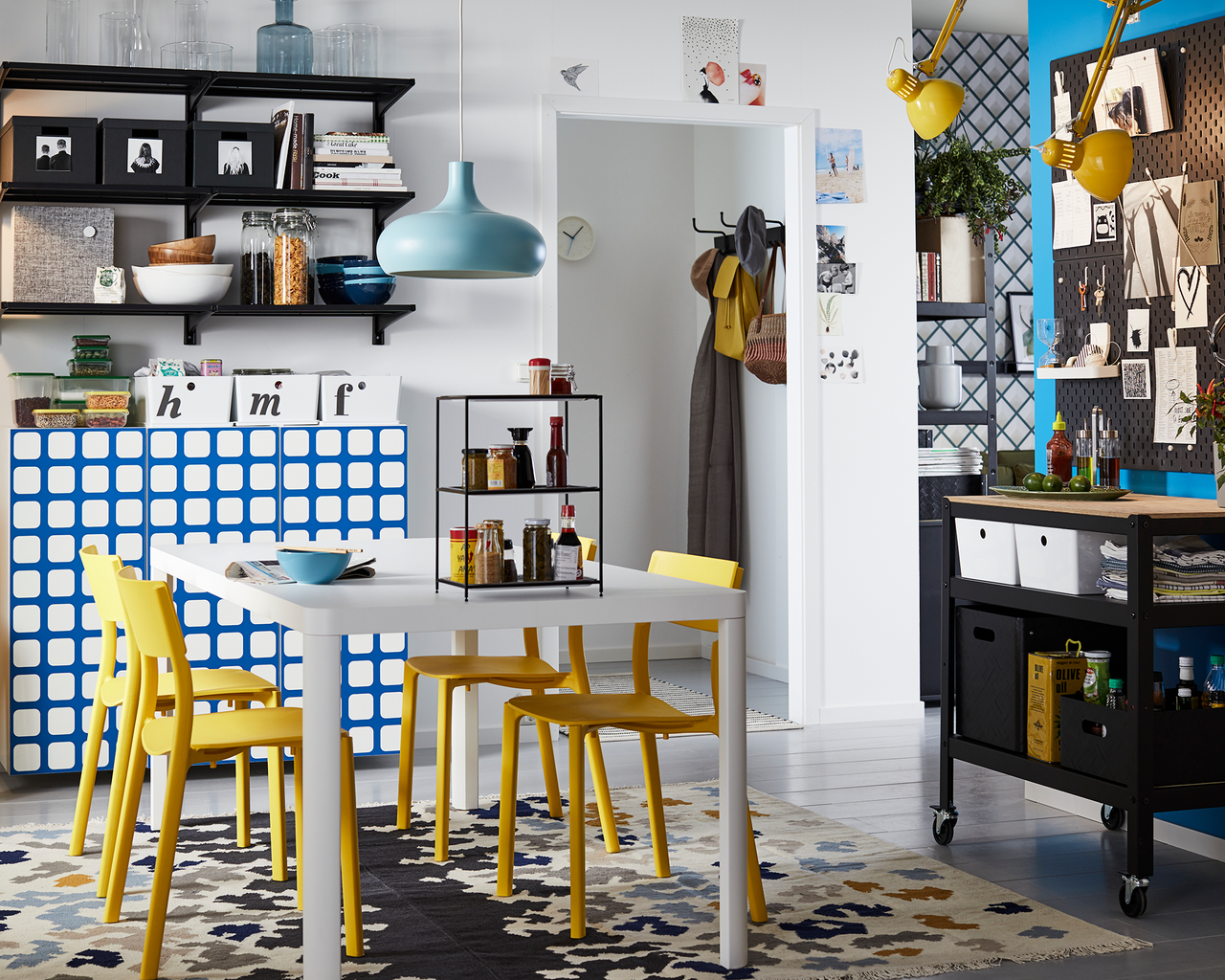 You might think that placing your table in the center of the room is a small kitchen dining ideas no-no, but we think this blue, yellow and white kitchen shows that this space really is the hub of the home.
Bright and dynamic colors really give off a sense of energy and lived-in feel where someone is always in the kitchen. And with this space often being used as a multi-functional room for doing homework, grabbing a midnight snack or just catching up with loved ones – we don't mind its informality at all. The use of noticeboards, storage on wheels and multiple light sources show this scheme is truly family friendly.
8. Mix and match tones and textures in a small space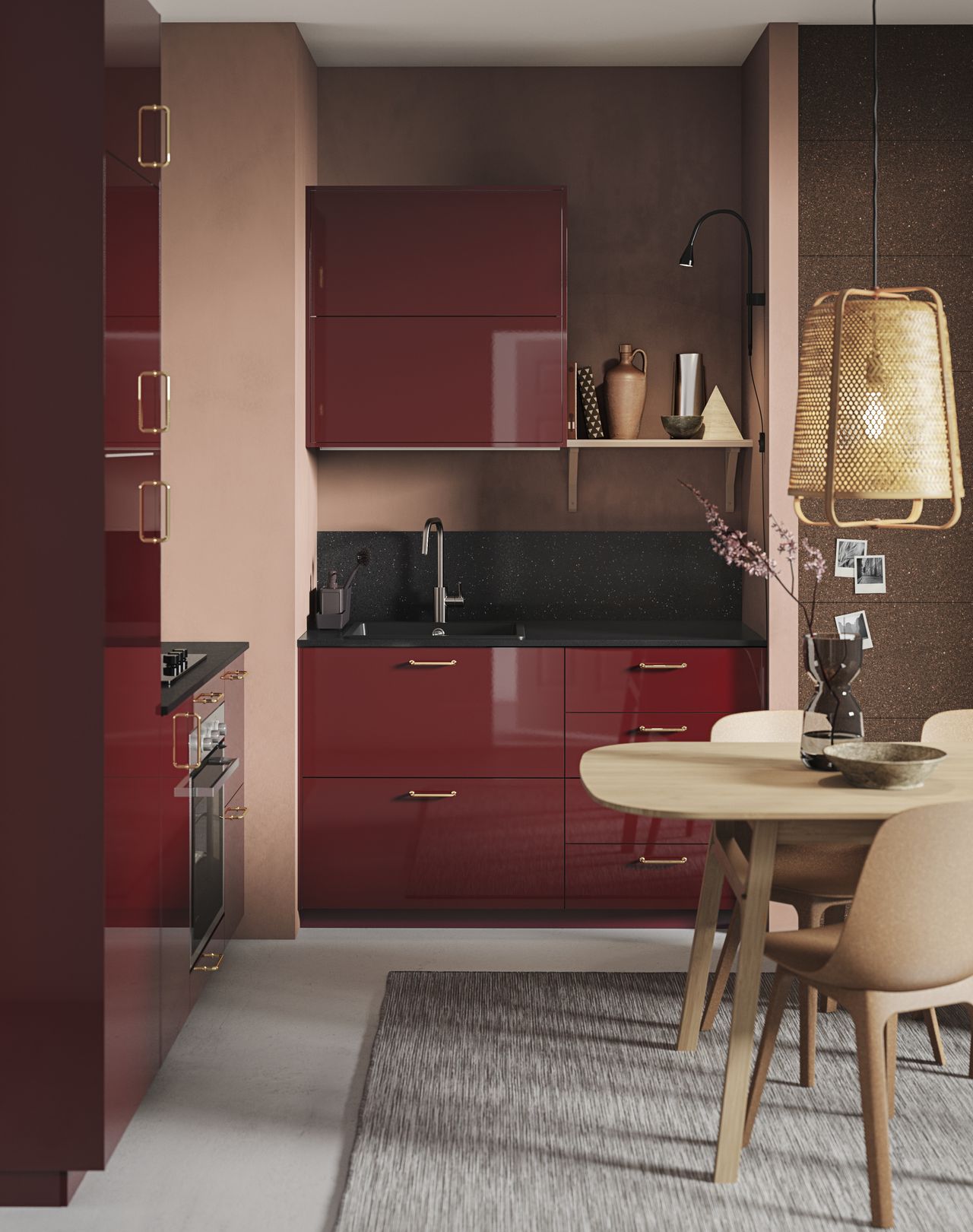 With dining ideas for small kitchens, it can be hard to show restraint and discipline with your design ideas. But, we think Ikea has sussed it here.
High glossy berry kitchen cabinetry, blush pink walls, concrete brown surfaces and a black granite backsplash are all combined with a simplistic wooden table and oversized pendant light to create a romantic atmosphere.
Just like Ying and Yang, there's a good balance of light and dark, cheap and chic and industrial and elegant in this scheme. Now that's what we call interior equilibrium. 
9. Install a drop-leaf table for a pop-up meal spot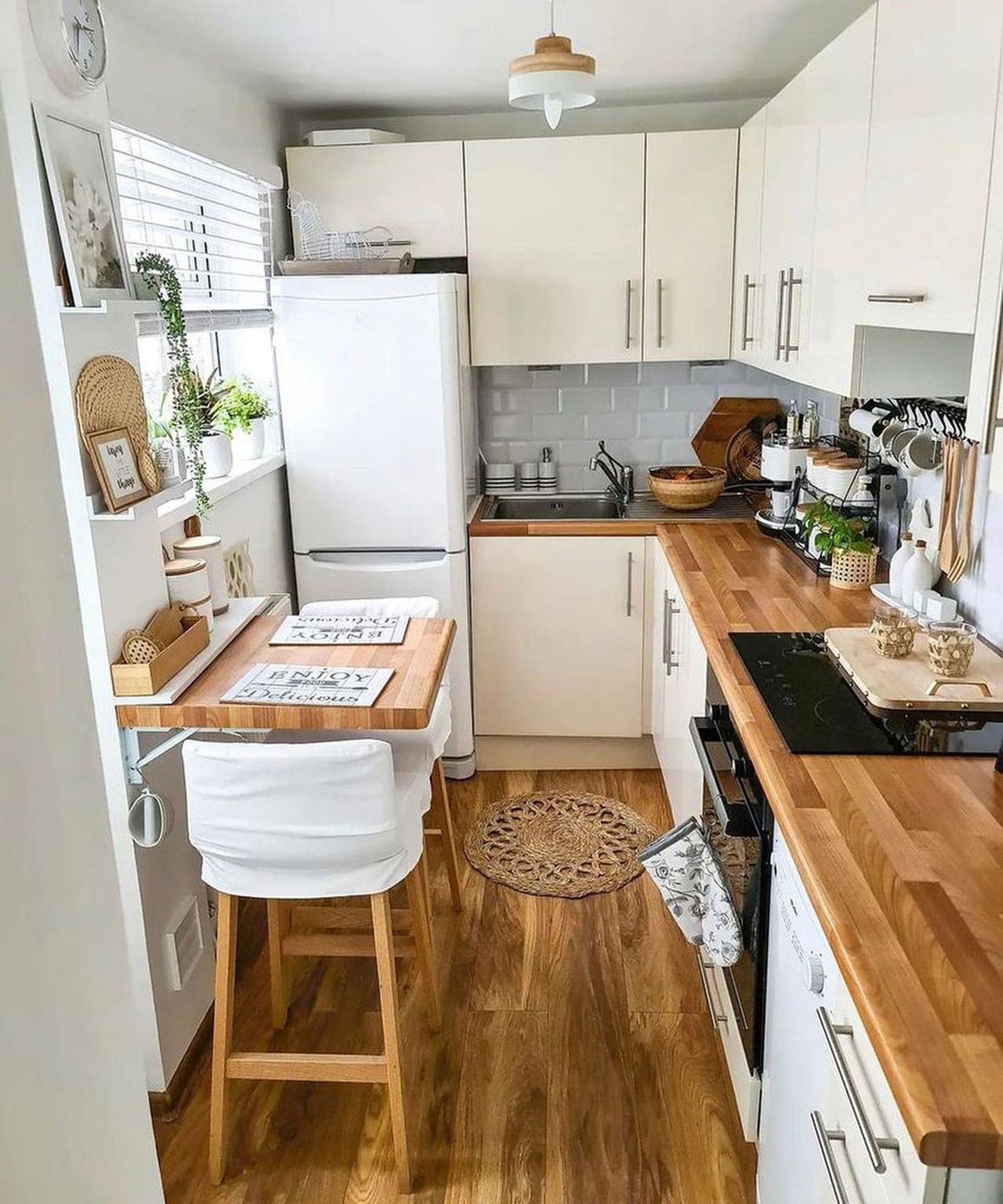 With time-poor timetables, it can be hard to get the family together to have a meal at the same time. So if you're playing taxi of mom or dad and need to take five with a cup of coffee, or if the kids come scurrying in after school asking for a sandwich, this down-down wooden table in Sylwia Wasik's kitchen makes the perfect spot.
10. Use textiles to open up a small open-plan kitchen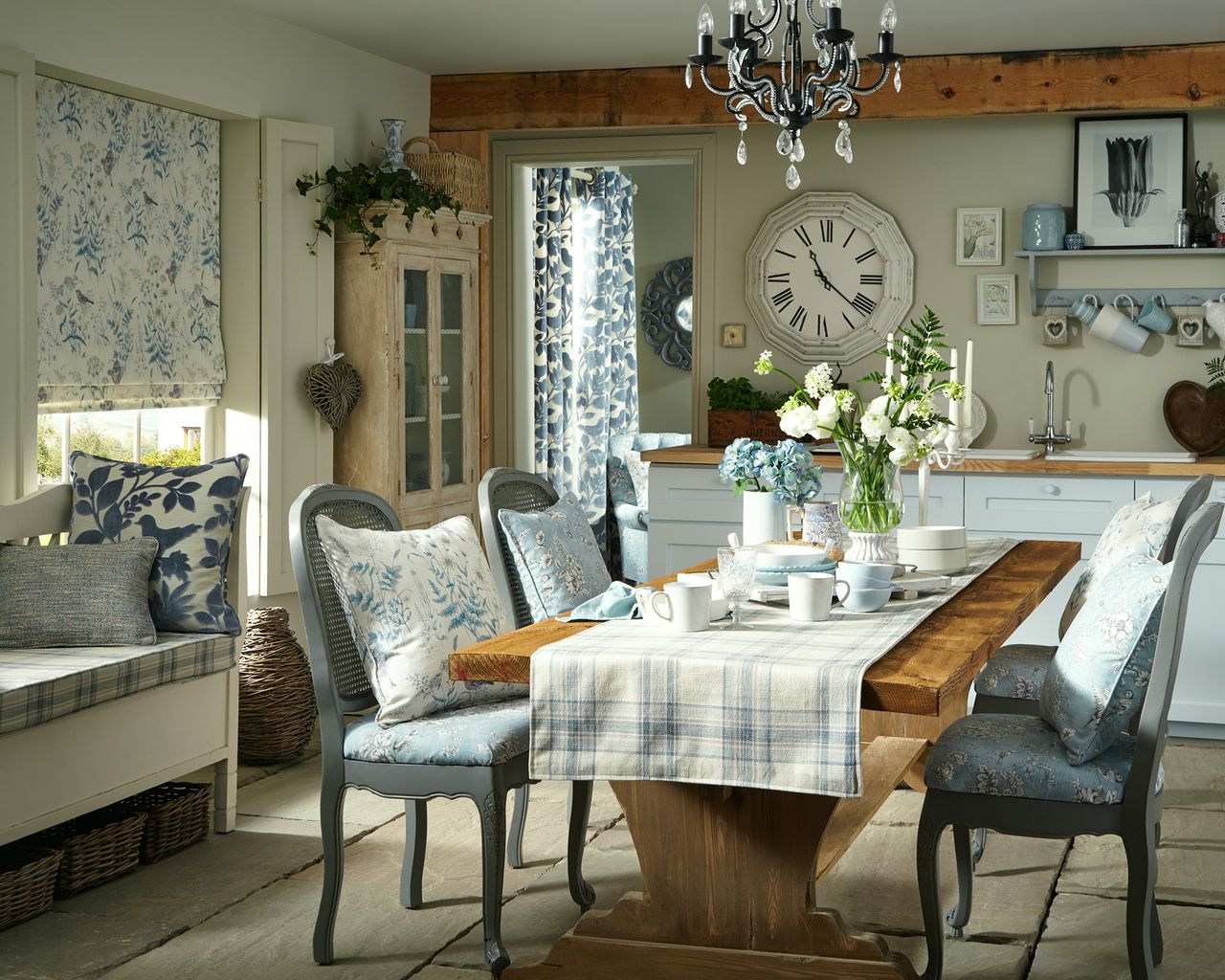 'Open plan spaces such as kitchen-diners, offer a great opportunity to experiment with patterns and colors and the use of different fabrics can help to pull a whole look together,' says Debbie Leigh, design manager at ILIV.
'From the seat pads to the window dressings and tablecloths, there's so much to play with. As a starting point work with three fabrics and the key is to vary the scale of the patterns.'
'For example, if you pick a large-scale pattern as your main one, the second should be half the scale or size of the first, such as a large floral paired with a plaid or geometric. The third can then be similar to either of the first two but using matching colors. When mixing two or three patterns it's a good idea to also break them up with the clever use of plains either as plain trims or borders, or perhaps a simple table runner.'
'If you are unsure, try looking at companion fabric books.  These have been carefully selected by fabric companies as pre-mixed harmonious patterns.  Alternatively try collecting samples and creating a mood board to ensure everything works together before starting on the actual room.'
11. Pay attention to lighting in small kitchen diners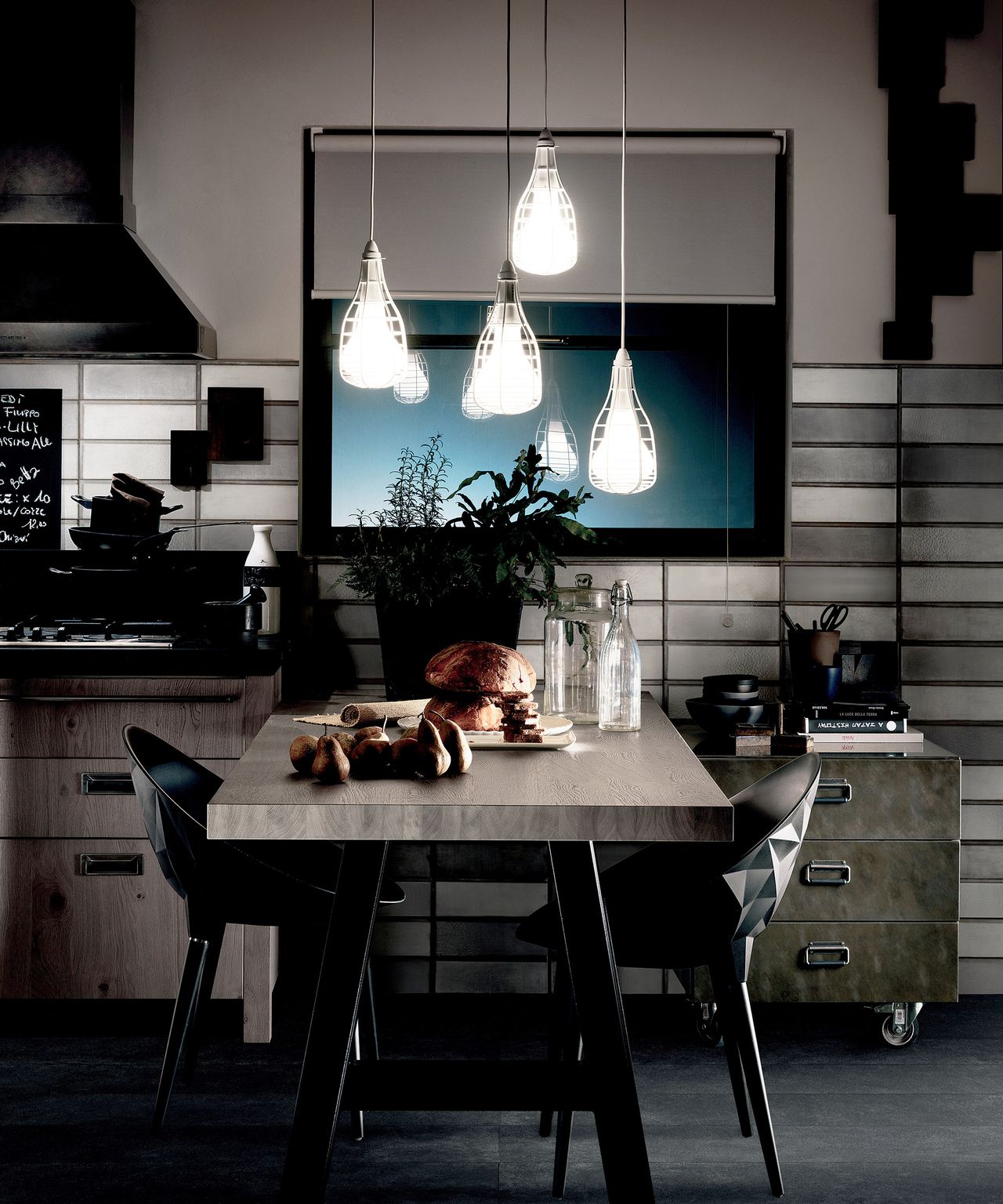 'To create a successful dining room lighting scheme try approaching your lighting in a layered manner,' says Marketa Rypacek, managing director, Industville Ltd.
'This will create little pockets and pools of light giving a calming atmosphere. Embrace the full range of lighting sources available from pendants and wall lights to recessed and track lighting, which will allow you to create a space that is both practical and atmospheric.'
'Make the dining table the focal point of the room by hanging an impressive fixture above it. A popular alternative to ceiling pendant lights are clustered chandeliers which feature multiple hanging pendants.'
'For best results hang the pendants at varying heights and choose shades of varying sizes and styles to create a standout fixture. Choosing light fixtures from a collection that includes ceiling lights and wall lights allows for a cohesive design scheme throughout the home, which is now more important than ever with open plan living spaces.'
12. Perch on a solo bar table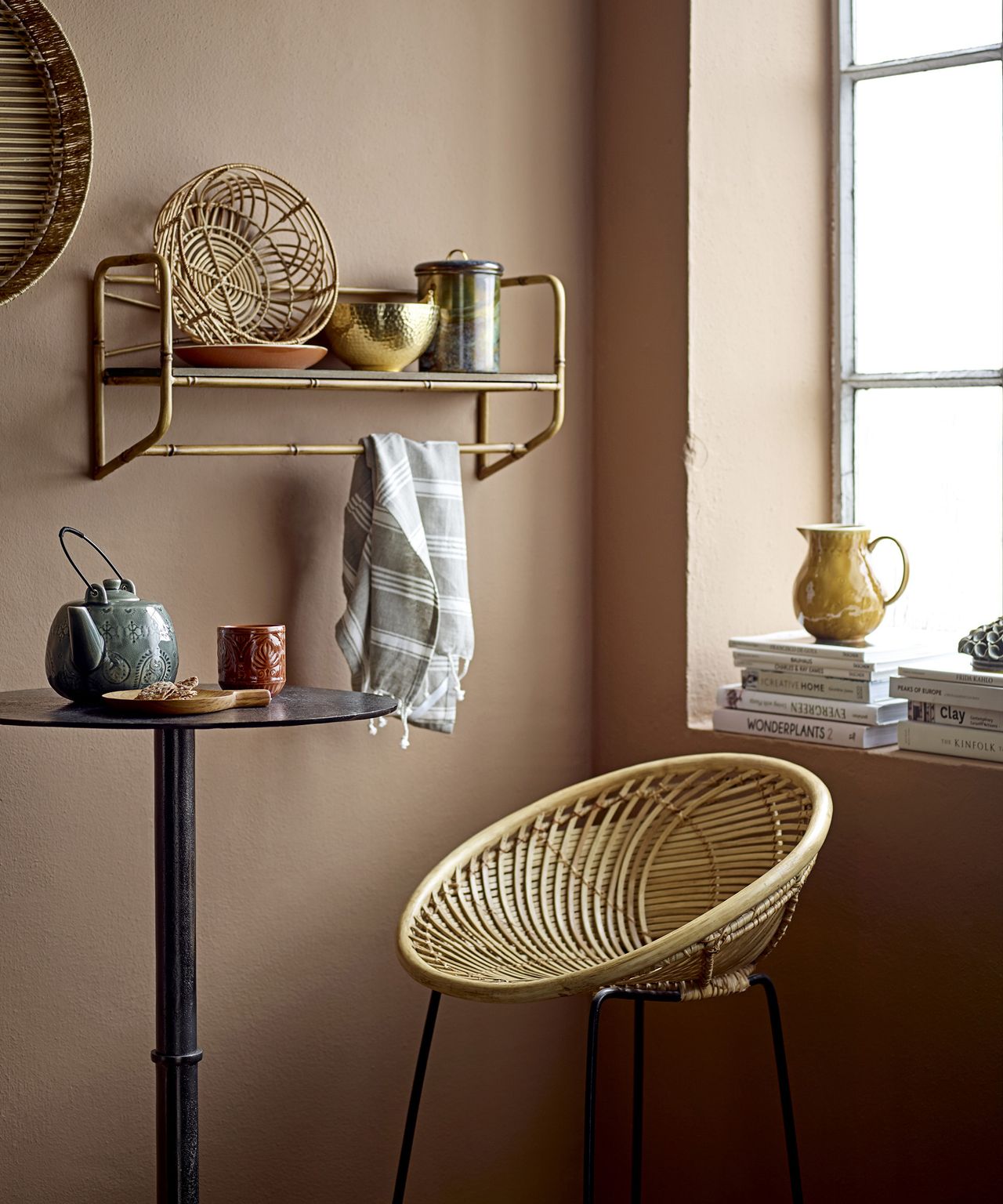 Meals for one don't have to be sad when you've got stylish company in the form of exotic seating and rattan shelving. So if you're dining solo, nod to all the seventies vibes with this inspired setup.
While you won't have to don the flares or platform boots, we suggest earthy wall paint, glazed ceramic-ware and lots of creative flair. And when you've got company, this bar stool and table setup is the perfect spot for a couple of glasses of fizz and small plates.
13. Enhance your view furthermore with paint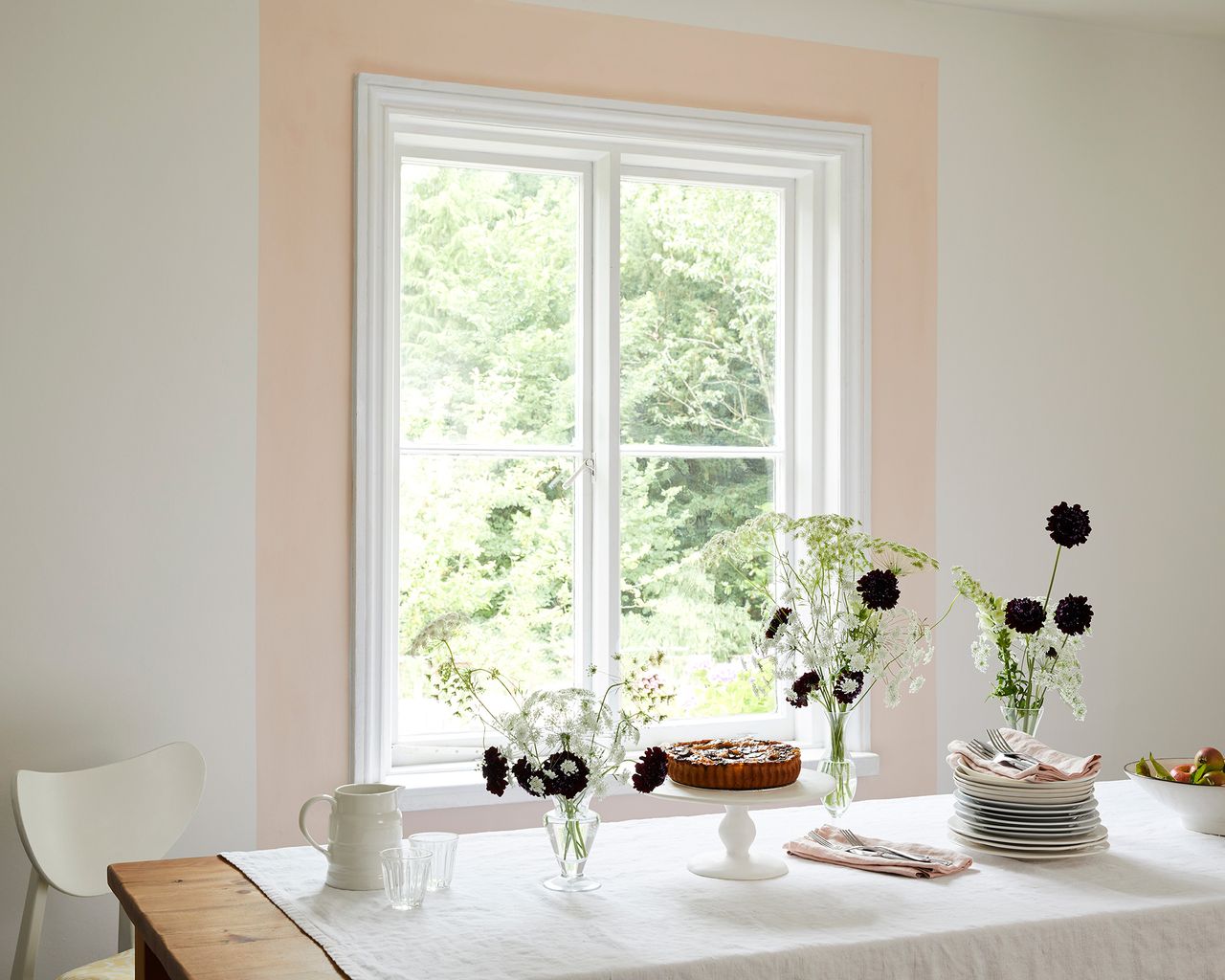 U-shaped, L-shaped or galley style, whatever shape your small kitchen layout takes, you'll have your space-saving hat on when it comes to fitting in furniture. But for those with narrow dining areas, take note of this long and thin table which is perfect for your small kitchen dining ideas.
But if you're scared of it looking like a buffet corner or school fete, take note of the window styling. Using Earthborn Up Up and Away with a Peach Baby to frame, you can create a focal point so your table doesn't look like fayre furniture.
'Bring the outside in by framing your window to emphasize the outside landscapes. To add both a soft accent to your dining space as well as color, we are seeing color blocking as a more popular method of decorating as well as adding a touch of style to your interiors.' says Cathryn Sanders, marketing manager, Earthborn Paints.
14. Use checkered floor tiles to zone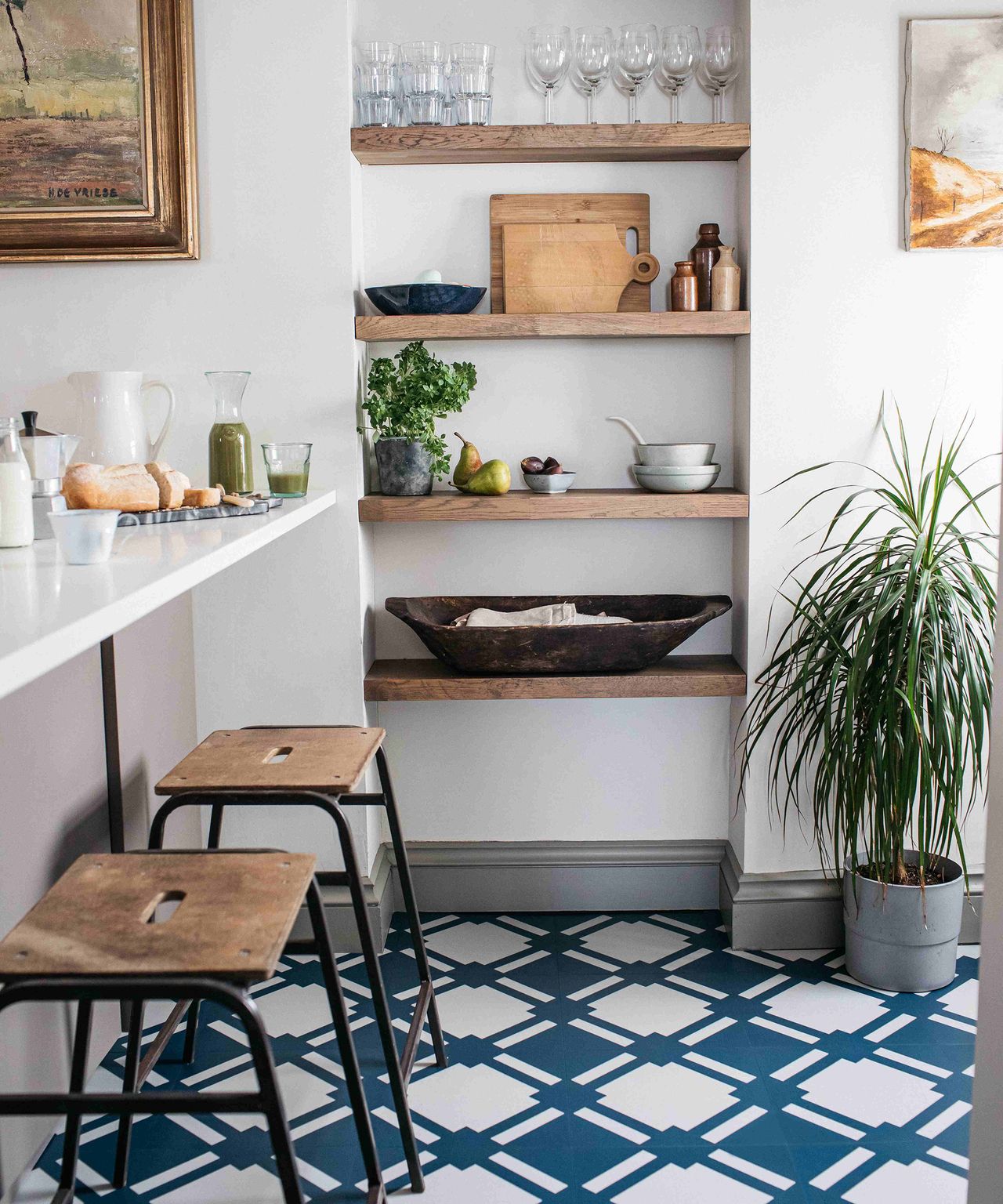 'Patterned and checkered floor tiles work brilliantly in small kitchens to create a stylish dining area or breakfast nook,' says Lucy Tunstall, creative director at Harvey Maria.
'They help define the space and can add color, whilst allowing the rest of your decor to stay fresh and neutral. Seen here is Check Blue designed by British surface pattern designer, Neisha Crosland.'
'Rustic natural wood alcove shelving is perfect for bijou dining areas, as they are both chic and practical! Use them for tableware and glass storage and style with plants, potted herbs, serving boards and stacks of your favorite ceramics.'
How do you fit a dining room in a small kitchen?
To fit a dining room in a small kitchen, sometimes it's better to reverse engineer the issue you're having: think outside the kitchen by considering the essentials first, and before you know it, you'll find hidden pockets of space you never thought you had.
As Oli Ramirez, designer at deVOL kitchens wisely puts: 'Design for the space that you have, not the space you wish you had,'
'When you're designing for a small space, sometimes it's just not possible to have everything you want in one room. Think about what you actually need, and prioritize those things. For example, could you put the washing machine in a separate room? Instead of having extra cupboards for all your plates and bowls, how about having a freestanding dresser in the dining area/living space? Sacrifice that wine cooler for a slim integrated dishwasher!'
'Of course many small kitchens don't have the room for a dining table, but don't despair,' says Read.
'Can you add a bar stool or two anywhere and sit them at work surface level? Perhaps at the end of a run creating a space for two? Or, if you have a good-sized window with a well-positioned window sill, you could squeeze two skinny stools there and use the window sill as an eating surface. It's a little coffee shop-esque and means you'll always have a lovely view.'
How can you make a small dining area look good?
'Wallpaper can be used to create drama especially in smaller rooms,' says Elizabeth Ockford.
 
'A kitchen is a big investment and often homeowners are worried about investing in colorful cabinetry in fear it will fall out of fashion. What we are seeing is plucky homeowners using wallpaper to counter the minimalism of white cupboards and neutral worktops.'
 
'While many might be afraid of using wallpaper in the kitchen due to its humidity, a non-woven paper combined with good ventilation will ensure wallpaper remains in great condition.'
 
She recommends a coat of matt water-based varnish over the wallpaper once its hung and dry to seal all edges and joins for additional protection.

https://www.realhomes.com/design/dining-ideas-for-small-kitchens