15 DIY Bathroom Remodeling Projects to Tackle This Winter

Our goal is to give you the tools and confidence you need to improve your finances. Although we receive compensation from our partner lenders, whom we will always identify, all opinions are our own. Credible Operations, Inc. NMLS # 1681276, is referred to here as "Credible."
If you're a homeowner, you've probably got a long list of home improvement projects to tackle. While bringing your home up to date can increase its value, you can't tackle everything at once. Instead, you'll want to prioritize whether you're doing a quick project or a full-on renovation.
Winter is a great time to update your bathroom. For one, it's an indoor project, so you won't have to deal with the cold. Plus, renovated bathrooms are well-known for producing a solid return on investment. It can also be cost-effective to start a project in the winter, since prices for materials usually rise in the early spring.
Here are 15 DIY bathroom projects to tackle this season:
1. Update the lighting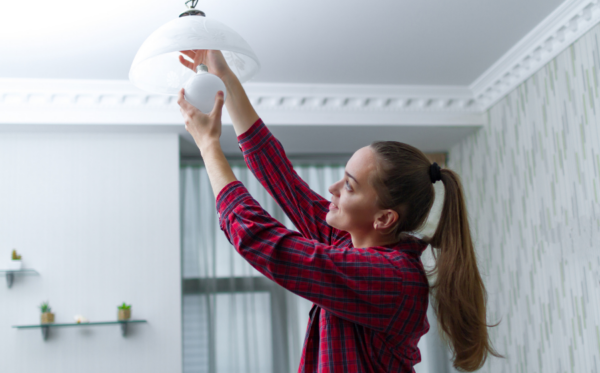 Changing an outdated light fixture can spruce up your bathroom by making it appear brighter and fresher. A hanging fixture, for instance, can add some much-needed personality, or you can install the fixture above the mirror to reflect light around the room.
This project involves temporarily disconnecting the electricity and working with wiring, so you may want to hire an expert if you're uncomfortable with this part.
2. Add a splash of tile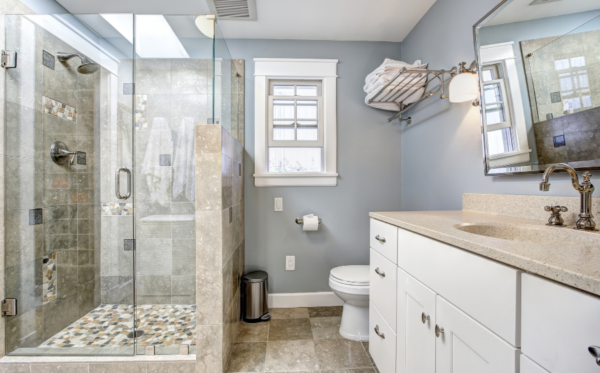 Adding tile is a great way to modernize the bathroom without a complete overhaul. It's also easy to clean, durable, and moisture-resistant — and there are lots of options.
You may decide to re-tile the floor, install tile halfway up the shower walls, or lay a simple backsplash above the sink. White subway tiles are classic, but you can get creative by arranging them in a herringbone or chevron design, or using a hexagon- or honeycomb-shaped tile.
3. Wallpaper the room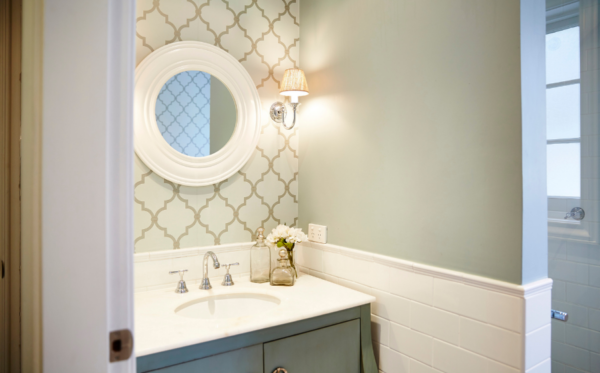 Wallpaper can add an upscale look to your powder room, whether you cover the whole thing or only apply it to one accent wall to create a focal point.
Look for "splash-proof" wallpaper, which is designed for high-humidity areas and won't peel off as easily as regular wallpaper. You can also experiment with bold colors or patterns to create a statement.
Learn More: 18 Home Improvement Projects You Can Wrap Up in a Day
4. Update the vanity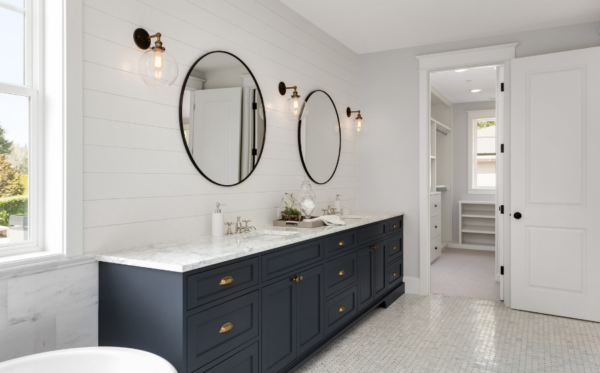 The vanity is a great place to keep your bathroom necessities organized and out of sight, and it's also a spot where you can add some personality.
Try painting the vanity a bold new color, installing new hardware, or using painted stencils or wallpaper on the door panels. You can also replace the top with a butcher block or granite countertop for a stylish look.
5. Recycle furniture for a new vanity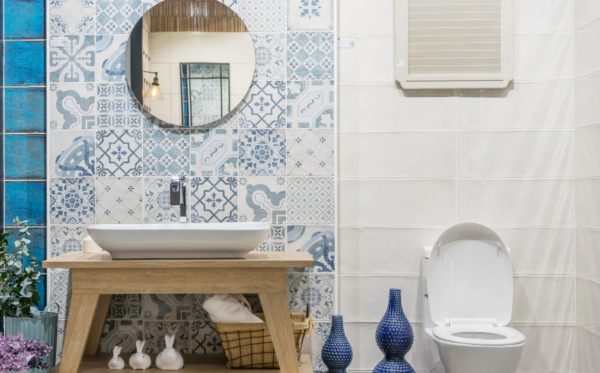 If you want to swap out the vanity completely, look for upcycled furniture to repurpose. An old dresser, nightstand, or coffee table can easily be transformed into your new bathroom organization system. You can add a fresh coat of paint and new hardware, then cut a hole on the top for a sink.
Tip: Remember to moisture-proof the counter with a few coats of clear polyurethane.
6. Install a towel warmer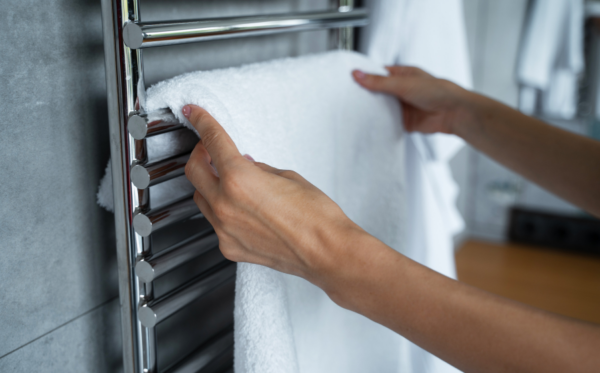 If you live in a colder climate, you'll want to stay extra toasty when getting out of the shower. A wall-mounted towel warmer keeps your towels warm and can give any bathroom a luxurious feel. Towel warmers are easy to install and typically plug into a standard outlet.
7. Replace the mirror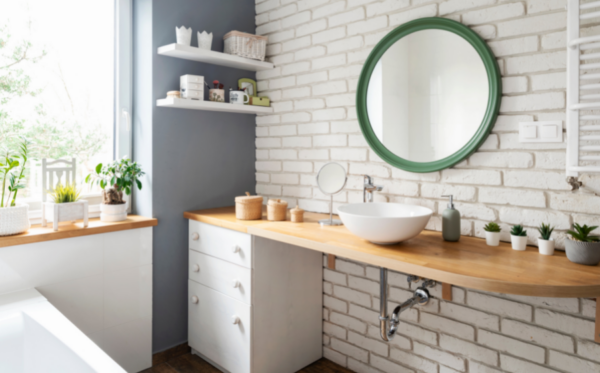 Replacing a frameless, rectangular mirror with a more artful version can spruce up your bathroom easily. These come in different shapes, colors, and patterns to give your bathroom a style all your own.
When exploring your options online or in a store, look for a mirror that fits the space well and comes with a hanger bracket for easy installation. For a cheaper and easier project, you can keep the original mirror and get a kit to add the frame.
8. Swap out the hardware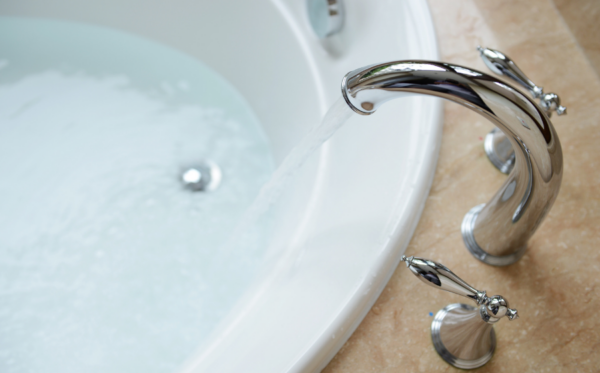 Sometimes accent features are all you need to make a bathroom feel brand new. Replacing the faucets, towel rack, shower head, light fixtures, and toilet paper holder are easy and budget-friendly projects to tackle in the winter.
You can go for a classic look, like brushed nickel, or use a funky design from an antique store. The point is to create a unified suite to tie the room together.
Check Out: 8 Popular Pandemic Home Renovations to Transform Your Space
9. Add wall storage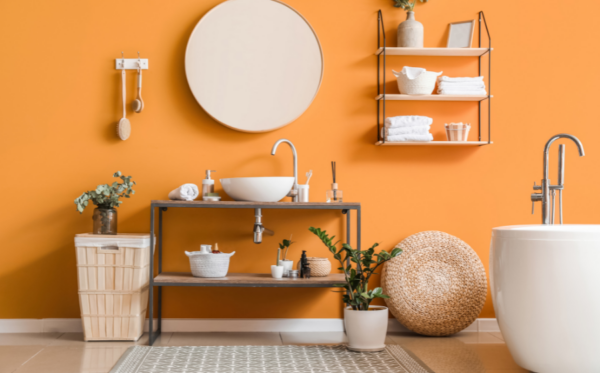 If your bathroom is a tight squeeze, you might need to get creative with storage solutions. You can install floating shelves or a wall cabinet above the toilet and add a bar with hooks next to the tub — so your towel is always at the ready. If you can't hang anything on the walls, try positioning a storage ladder over the toilet and use it to store your bathroom necessities.
10. Install eco-friendly features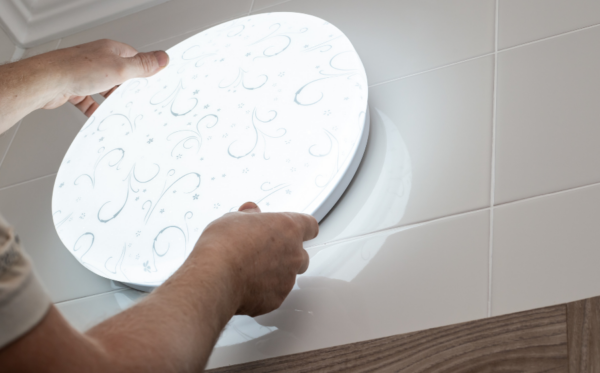 Installing energy-efficient features throughout your home may help you save on utility bills while helping the planet at the same time. On top of that, high energy-efficiency ratings can boost your home value by 2.7% on average, according to research by Freddie Mac.
For a simple, DIY project, upgrade to energy-efficient lighting with halogen incandescent, CFL, or LED light bulbs. You can also install insulated windows and an Energy Star-rated toilet to further reduce your carbon footprint — but these are more complex tasks that might require a contractor.
11. Paint the walls

A fresh coat of paint isn't usually considered a "remodel," but using the right color may boost your resale value. A warm, neutral color can help the bathroom appear cleaner and brighter. Or, for something different, you can use painted stencils for a flourish along the trim.
12. Improve your shower space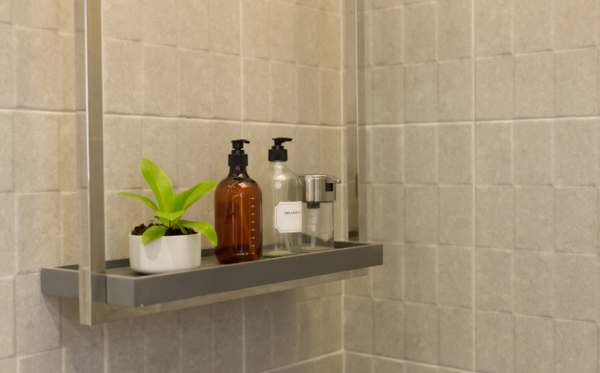 If your shower doesn't have enough storage for your family's soaps and shampoos, shower shelves can be a great addition. Corner shelves are popular, or you can install a wire caddy or build a recessed shelf into the wall.
It's possible to add these features even if your shower is tiled, using water-resistant adhesive or screws and a lightweight material for the shelf.
13. Add window treatments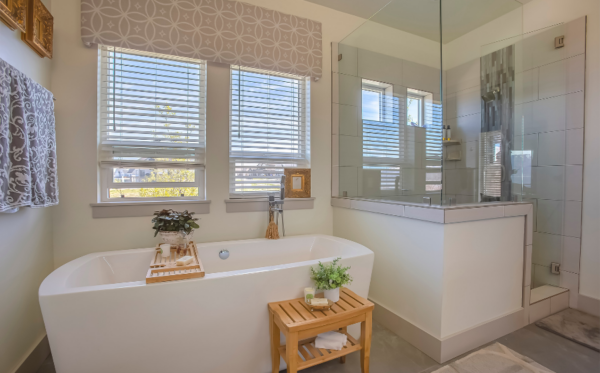 Installing new blinds can help make the bathroom feel new and even improve energy-efficiency. Closing the blinds to keep heat out in the summer might cut down on cooling costs. And in the cooler months, you can open the blinds to use natural light and keep utility costs down. Curtains also add a pop of color to an otherwise neutral bathroom.
See: 15 Home Improvement Projects to Complete Before You List Your Home
14. Replace your bathroom exhaust fan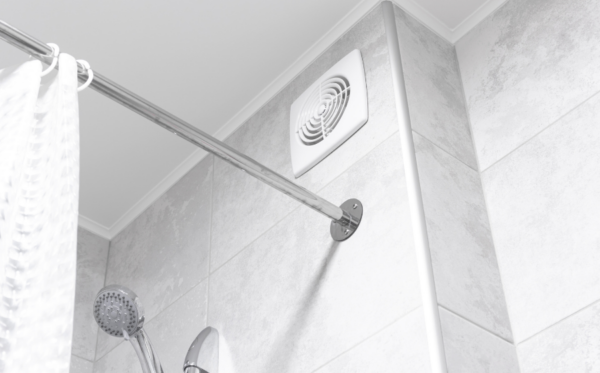 Though you may never think about your bathroom's exhaust fan, it's an important part of your home's ventilation system. These remove heat, odors, and moisture from the bathroom — helping to prevent mold and improve your air quality.
Exhaust fans usually last about 10 years. If you're not sure when it was last replaced, it's a smart idea to invest in a new one.
15. Add to your cabinet storage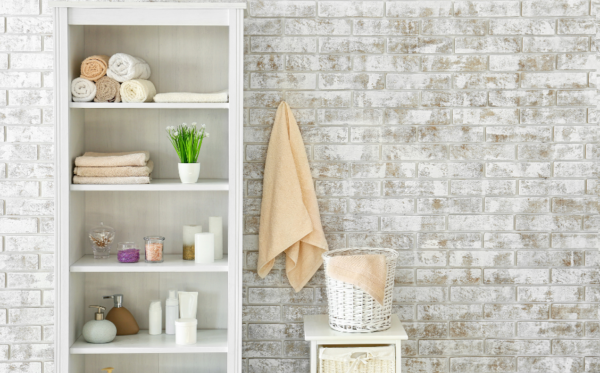 If you're looking for ways to maximize your storage space, consider adding static or slide-out shelves to your cabinets. You can use baskets to further organize your bathroom necessities and store extras like linens and towels. These shelves come pre-made at hardware stores, but you might be able to reuse parts from an old dresser or vanity.
When you're planning out your bathroom update, you may decide to tackle just a few of these projects or put all of them on your to-do list. Consider what your bathroom needs, your budget, and how much time you have. The good news is, these projects are generally easy to do by yourself or with a partner.
If you're doing extensive remodeling to your home and need a way to fund all of the projects, you may want to consider a cash-out refinance. With a cash-out refinance, you'll replace your existing mortgage with a newer, larger mortgage and receive the difference as a lump sum. Credible can help you find a great rate on a cash-out refinance in just a few minutes.
Get the cash you need and the rate you deserve
Compare lenders
Get cash out to pay off high-interest debt
Prequalify in just 3 minutes
Find My Loan
No annoying calls or emails from lenders!