How to Design a Timeless Bedroom, According to Mario Buatta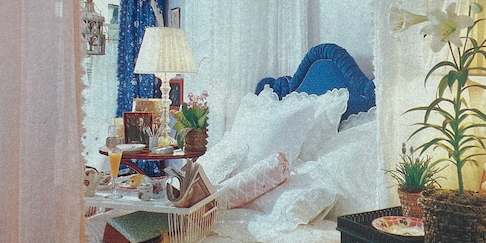 For House Beautiful's 125th anniversary this year, we're digging into some of our favorite spaces from our archive—including decorator Sister Parish's New York Apartment and the West Hollywood home and studio of designer extraordinaire Tony Duquette, dubbed "the house of a magician." Here, we revisit an interview with Mario Buatta on how to design a timeless bedroom, first published in our August, 1984 issue.
There's more to designing a timeless bedroom than filling it with beautiful things. For starters, you need to factor in the bones of the room. The legendary interior decorator Mario Buatta knew this, and for a bedroom in the 1984 Kips Bay showhouse, he exemplified it. Not only that, but he shared with House Beautiful the ins and outs of designing the timeless oasis—from how he first approached the room to the history behind certain accessories he put into it.
"This is the room that earned Mario the infamous moniker the 'Prince of Chintz' from news reporter Chauncey Howell, who visited the 1984 showhouse," Emily Eerdmans—design expert, author, and a mentee of Buatta's—tells House Beautiful. "The interview is extremely rare for its detail. Mario didn't often share such nitty-gritty information on his process."
From the great deal of advice Buatta gave, what stands out to her the most is his emphasis on how important it is to work with the existing architecture and to address what the shell of the room is missing—before even adding a stroke of paint. "Mario was celebrated for his colors, his curtains, and his collections, but what often gets lost is his understanding of how to make a room work, down to the baseboards," she explains. "All the great designers I've studied, even Madeleine Castaing who had no training at all, understood this."
Revisit the original story below.
---
Analysis of a Stylish Bedroom
By Lois Perschetz
For a decorator like Mario Buatta, a designer show house (usually a fundraising event) provides the ideal client: himself. "I love these projects because they offer complete freedom. No one is holding me back," says Mr. Buatta, who lavished his attention recently on this room of the Kips Bay Boys' Club Show House, held annually in New York. For the public, a show house is an endless source of ideas—the place to look, study, to see what you can borrow or adapt for yourself and your home.
Romantic yet sophisticated and sumptuous beyond description—this is the bedroom of the moment, by a top decorator at the top of his form.
How does a timeless bedroom take form? Here, Mario Buatta answers our questions.
How to approach a room in terms of priorities? Where do you start?
First, how is the room going to be used? What do you want it to look like? Second is the mood—how do you want it to feel? (Here I set out to get the feeling of an English country house that is light and bright.) Then you get the shell in shape. You make any changes in windows, doors, cornice and baseboard moldings.
Does the mood determine how you'll finish the shell? Or are you guided by the room's original architecture?
I think a room should be treated with its original architectural style, but you can elaborate on it… I wanted this bedroom to have the feeling of a Georgian town house. I started with the moldings and the mantelpiece.
Why create a trompe l'oeil frieze?
If this were a real Georgian town house, it would have had proper cornice moldings. But these were plain, devoid of any detail. Rather than replace them, I thought it was prettier to paint the frieze and add a hint of what would have been. Robert Jackson painted it from my suggestion for a design with circles, diamonds and shadows. You could also use wallpaper borders to achieve that look.
Was there a fireplace in the room?
There was an old Victorian fireplace, but the opening was small and not very attractive. I felt the room needed a mantel with a mirror over it, and the ideal would be English—high and open. This mantelpiece is 18th-century Chippendale. To make the opening look larger I had Robert Jackson paint trompe l'oeil bricks and marble.
What's the next step in preparing the shell of a room?
The walls. I always start by picking the important fabric because it rules the room. I don't like to be ruled by a painting or a carpet. In this case the curtain fabric came first. It's one of my favorites, and I love the border—a timeless design called Château de Verrieres from Brunschwig & Fils.
Next I think of what colors I want to use. I've always used this fabric with pale blue or white walls, so I decided to use lavender for a change. We were going to glaze the walls, but I wanted something more special so I had my painter do four-inch-wide stripes of mottling and strié that gave the walls a feeling of old faded silk. The pattern also gave the walls depth and the ceiling height. (You could use striped wallpaper for a similar effect.) If you plan to have a painted finish like this, it's important to prepare the walls so they are right. A glazed finish properly done could last for years.
What about the ceiling?
The ceiling is the sixth surface everyone forgets about. I did it in a pale robin's-egg blue. The finish is flat. In a bedroom you want everything soft and comforting—a shiny finish would reflect too much light for a bedroom.
And the baseboards?
I always shade them a color to make the room look taller. To finish off the look here and bring the room "down," we marbleized the baseboards to match the fireplace surround.

When do you decide where to place the furniture?
After picking the most important fabric or wall color or anything you plan to work with, you decide on the placement of the upholstered pieces… The minute I walk into a room and know what it's going to be used for, I know exactly where the furniture is going to be placed.
What did you want to accomplish in this bedroom?
I wanted the feeling of 19th-century comfort… of having things that are really comfortable… the luxuriousness of having that comfort.
What was the starting point?
The bed came first. As soon as I saw the room I felt it needed a canopy bed because the room is so large (about 20 by 20 feet) and I wanted to make it cozy. A regular bed would have looked as though it was in a desert.
How did you choose a treatment?
The idea was to have a canopy bed, which this kind of room would have had, but to do it in a simple way. I decided on a draped bed with tester top and curtains because I felt the room could use the weight. The frame is wood that is hung from the ceiling on chains. To make the room look light and airy, I used a plain lightweight strié handkerchief linen—the design is subtle, like chalk stripes—with a lacelike cotton looped fringe trimming. A sunburst treatment on the inside of the tester is even prettier.
What about the rest of the bed?
The headboard is Venetian, sort of 18th century, but upholstered—for comfort. Bedskirt and headboard match. The bed is reminiscent of one I saw loved at Haseley Court, Nancy Lancaster's home in England.
Let's talk about accessories.
Well, I hate the word accessories. They're objects, things you like, things you love to live with, things that are important to you. I always like a room to look as though it's been accumulated over a period of years. And I think that's what's nice about English houses: So many generations have lived in them. And the person who might have this particular room in America might have inherited a lot of these things. They're just the sort of things people love living with.
Why are they important to a room?
Because they are things that mean something to you—presents you've been given, family things that have come down over the years. This room is sort of a scrapbook of a woman's life. This is her bedroom, the most personal part of the house you can be in.
If this were a real room, would all these items be the client's, or would you contribute some?
It depends. Some clients have nothing to bring to the job; you have to find things for them. The best client is the one who has all these things, preferably hiding in the attic, and then you go up there and bring down all these treasures. They are what makes a house look personal.
What governs the placement of wall objects?
Every elevation should not only be pleasing, but also balance out the opposite elevation. In other words, if you're looking at the window wall, the opposite wall should balance out—you need the same height. And by using plates and brackets, sashes and bows to balance the four walls, you get a nice, even feeling all around the room.

In other words, it's a look you can't skimp on—is that what you mean?
You've got to do this the right way or not do it at all. The thing is, you can do this—and people have done this—on very little money because you can go to second-hand shops and buy wonderful things. You don't have to have great quality; you don't need great quality in a room like this. Yes, you need some quality to give it the "oomph" that this room has—and this room is full of quality pieces—but you can cheat a great deal with a look like this. It's the style you must get right.
Speaking of style, one of the most spectacular things in this room is the curtain treatment.
The curtains are very elaborate. They are lined with a black fabric, then heavily interlined with blanket fabric that is almost one quarter inch thick, and they're lined on the back side with a small fancy print that's a pleasure to see when you draw the curtains. Or when you're outside you look through and see the pretty colored lining.
How would you describe the extraordinary valences and detail work?
The valence boards are D-shaped, and they not only rise up in the air and curve, but they also arch out—they're three-dimensional in every way. The border fabric has been reversed on the top to make a crown. The beauty of it is that by using the border and then having the rope between that and the shirred valances, and having these sort of long jabots on the end, you get this wonderful feeling of architecture, which is very important.
One detail that's so interesting is the scalloped borders, which are pinked around the edges.
I love that. The pinking creates a soft look, and also a very simple, casual look. I don't think that's the whole point. If you were to have sewn that down and done a reversed scallop the way the edge of the chair is done, where you need firmness, then you would have had curtains with stiff edging. This is a very soft look, like a feathered edge, and a very luxurious one.
Is there a way to figure the proper length for this kind of curtain?
These are four inches on the floor; for most clients I do them two inches on the floor. But most Americans are used to having curtains that graze the floor or are an inch or two off the floor—it looks as though they've just had a flood, and it drives me crazy. A lot of people don't understand curtains—don't realize they become the architecture of a room. These have little café-style curtains behind them that keep passerby from looking in, but you still get the light from above.

How did you do the borders on the skirts of the chair and sofa?
You're looking at simple decorative edges. They were turned in and sewn because they wouldn't last very long if they came unfrayed from being hit with a vacuum cleaner all the time.
What is the history of the screen?
It's French 18th-century canvas, and I found it about 12 years ago. What you see is the reverse side of the screen; the other side was too busy. A screen is always nice in a bedroom because it creates an area where you can go back and change. What it does in that corner is stop the eye from going on and also creates a cozier corner.
And the bureau/bookcase?
It's 18th-century Queen Anne black lacquer. It works as a dresser on the bottom, and on the top as a desk. Behind the doors is storage, or a display area. This particular one has a display.
You have wonderful painted chairs.
I'm crazy about peeling paint. It has a sense of history, a patina, a mystery. And the fact that it's peeling—what John Fowler called "pleasing decay"—is what makes a room look as though it's been lived in and is comfortable and loved. The piece at the dressing table is an 18th-century Adam chait, painted and decorated.
Why did you pick this carpet?
The whole idea of that small pattern is sort of 19th century, the idea of something that recedes. The point of using pattern on pattern on pattern, which I love doing, is to use patterns that relate to one another, as in nature.
What happens in a situation like this is that you have a large pattern, the flowers of the blue and white fabric; you have the ribbon pattern, which is scaled down from that; you have the little dots, which complement the background; those little dots are repeated in the rug with a sort of diamond design. Little by little, all these patterns sort of play.
You have to be aware of what you're doing when you're doing pattern on pattern. You have to look at it the way an artist paints a picture. You have to think of the composition. And the most important thing when you're doing a room—and I always like to decorate a room the way an artist paints a picture—is to do a dab at a time. A room like this can be decorated in six months, but it shouldn't look that way. It should appear to have "happened"—what I call the undecorated look.
It seems your whole look is much greater than the sum of its parts.
That's the intent. And sometimes clients want to stop at a certain point—they say they've had enough or that's how they want it to look. They don't realize you have to go that step further to make it look cozy the way this room does. A client walked in here and said, "I can see why my room needs more things." And I said, "Exactly—you have not completed the look." It's like commissioning an artist to paint a picture and saying "stop, I'll take it" when he's three quarters of the way through. You have to let this artist complete his vision. This is why I love to do decorator show houses. No one is saying "I don't like that color; my husband won't like that canopy bed." The fact is, men who say they won't sleep in these beds just don't want their friends to know how much they do like them.
How important is lighting?
Very. I believe in pools of light in a room, lamplight. And I don't mind uplights that throw shadows and light up onto the ceiling, because if you can't put a lamp in one particular corner, an uplight creates the same effect of light on the ceiling so that you can get that pool of light up and down. But the point of lighting is that it be suitable and sufficient and that it can be even throughout the room. It has to be very well thought out. This room has light wherever you'd sit—you can be comfortable and able to read. The room lights are on one master switch except for the two bedside lamps, because you want to be able to turn those off and on independently.
How long did it take to put this room together?
It took a lot of thinking. I started three months ago before the show, and for two weeks before it was installed I couldn't sleep. It took the painter two weeks to do the walls. It was overwhelming for him and for me. I could see the room finished, but to convey the message of what I wanted was impossible. And at times I thought it was too dark, too light. I'm just like a client. I'm just like everybody else. And so I was tortured by this whole thing. But seeing it all come together was so exciting. It's like working with a client—you have to oversee every detail. And this room has much detail. If you're going to do a room where you use the best of the past and the best of today, you have to get it right. There's no date in this room because there's nothing faddish in it. Everything is forever. It's timeless decorating.
Follow House Beautiful on Instagram.
This content is created and maintained by a third party, and imported onto this page to help users provide their email addresses. You may be able to find more information about this and similar content at piano.io