How to make a small backyard look bigger: 10 clever ideas |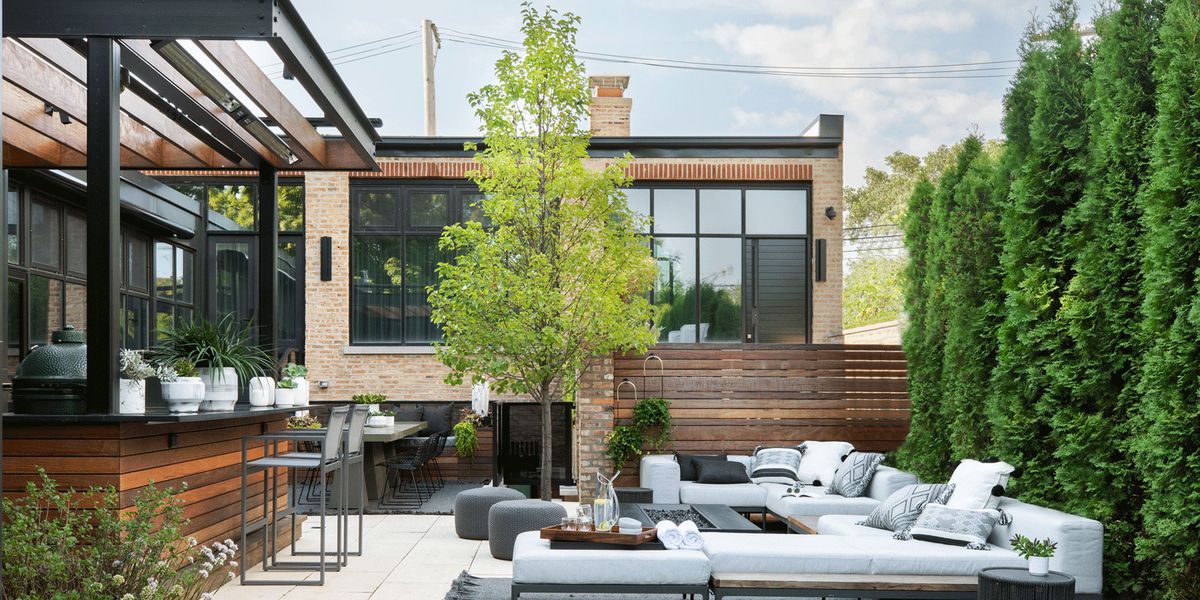 If you're looking for ideas on how to make a small backyard look bigger we have plenty of clever and creative tricks to inspire you. Although your small backyard might be limited in scale the good news is it still offers endless potential to create an interesting and vibrant space.
The key to success is to keep things simple. It's all about getting the basics right to create a harmonious space that feels bigger than it is, which means choosing hardscaping and planting with care. Integral to this is sticking to a design plan and not being tempted to cram too much in. Always consider how you actually intend to use the space itself before opting for permanent landscaping and planting solutions.
Flexibility is everything if space is limiting your backyard ideas, so make options like lightweight ornamental screens, moveable planters on wheels, and furniture that can easily be reconfigured your go-to choices.
Our landscape design experts now share their expertise with you to help smooth the way, and show that you don't need a big backyard to create a spacious feel.
10 ways to make a small backyard look bigger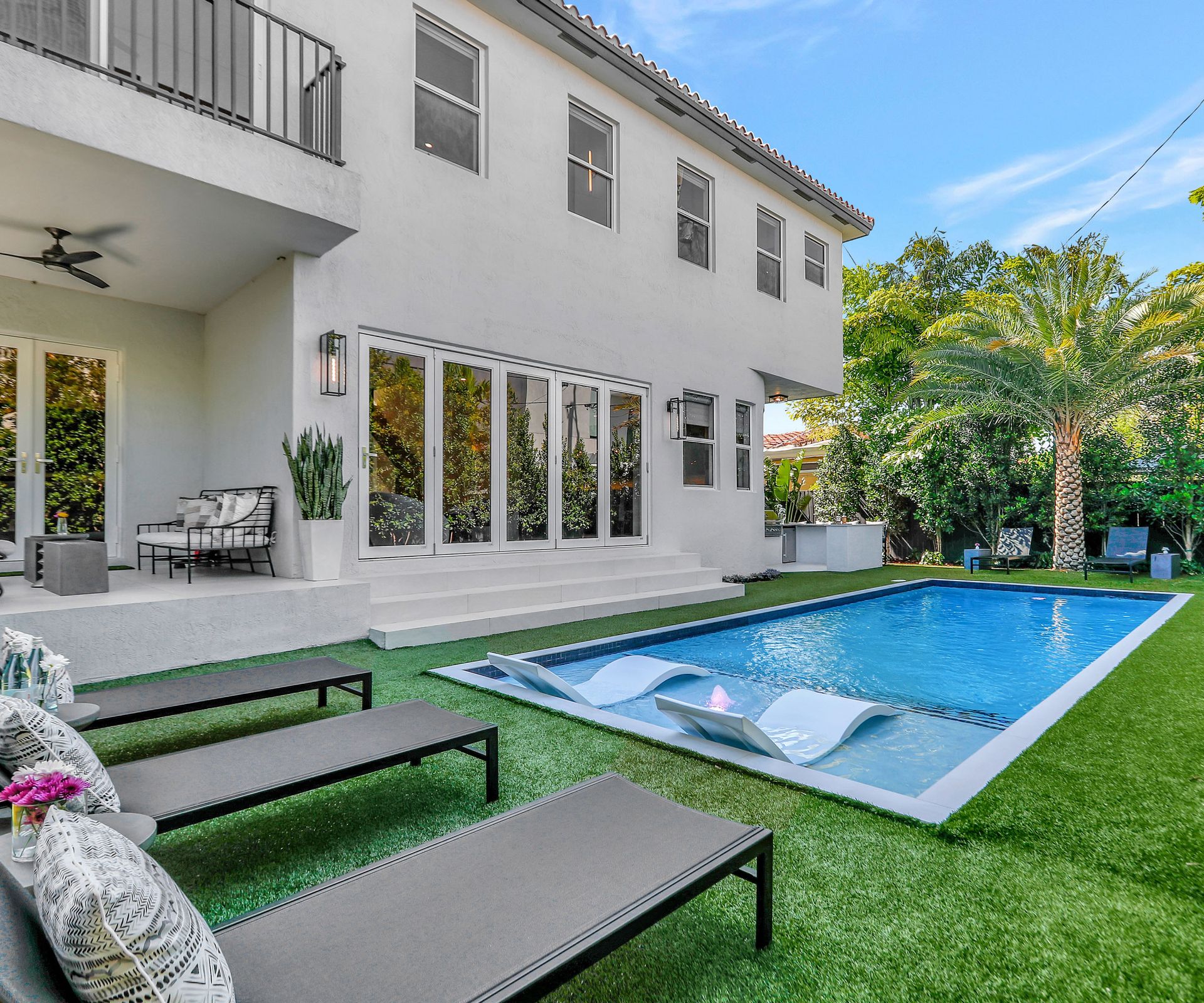 There are some key things to factor in when considering how to make a small backyard look bigger.
Attention to detail is everything. 'In order to visually expand a backyard into seeming larger than it is requires a few tricks,' says Miami-based interior designer Madison Popper, founder of Chill Casa Home. 'First, opt for light colors that will enhance the brightness, alongside keeping your backyard clutter-free.' 
Getting the most out of the space as part of your backyard landscaping ideas often means dividing it up into different areas. 'Create functional zones within the space, and include a layering effect using different heights and depths,' says Madison. 'It's important that you focus on visual interests, versus the size of the area, to give the illusion of it appearing larger than it is. This will make your small backyard feel expansive and inviting.'
Based in Miami Beach, Florida, Madison Popper is the founder of Chill Casa Home, a leading interior design studio focusing on luxury residential design.
1. Choose light colors to create an expansive effect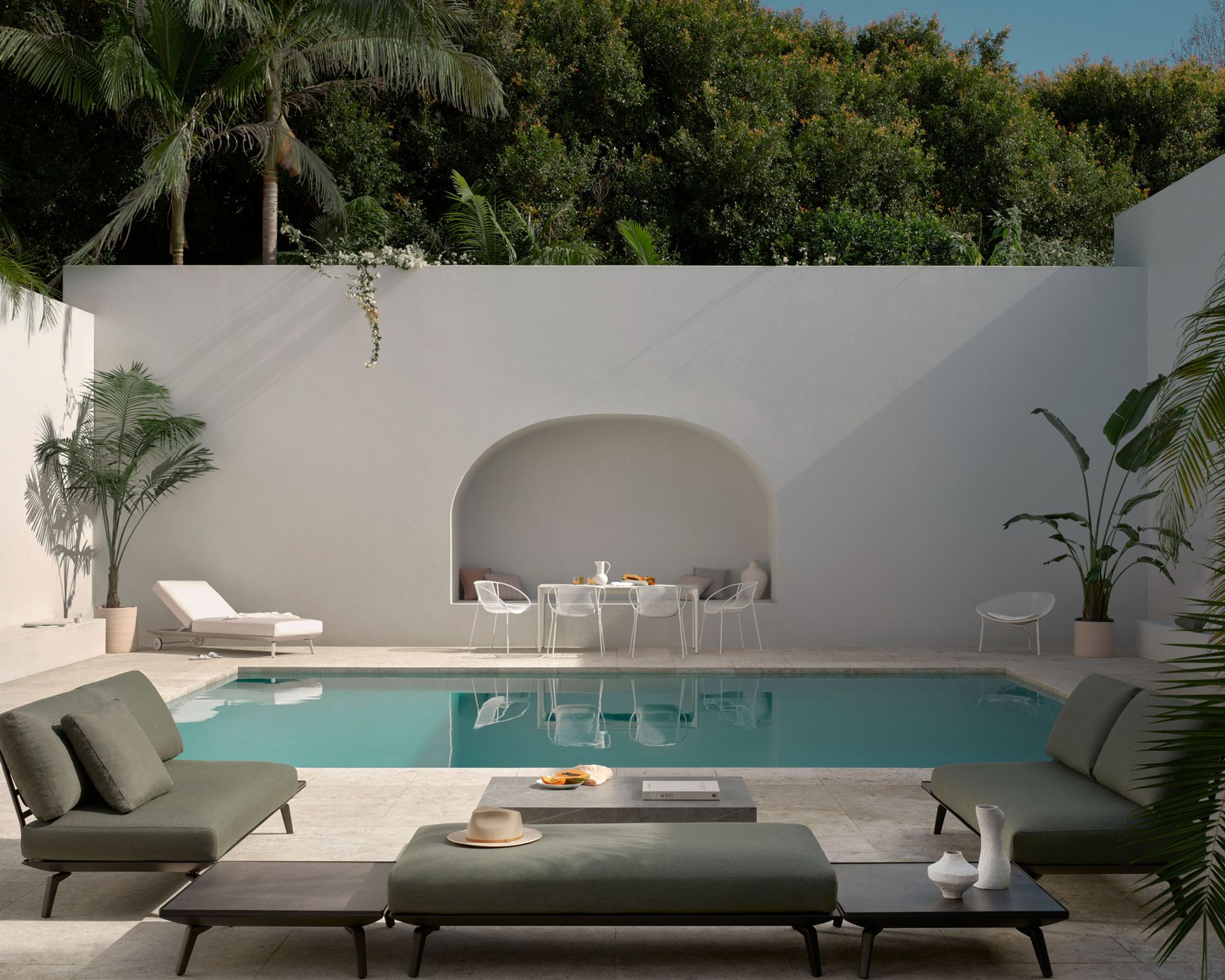 The pool in this yard may take up most of the space but its elegant design is truly inviting. Limiting landscaping materials such as paving like this and using a simple, pared down color palette is a good idea to make a small backyard look bigger. 
Try to avoid squeezing in too many features as this can leave your design feeling fragmented. Instead, take bold decisions with a 'less is more' approach. It always helps to decide on a color scheme and stick to it when it comes to choosing furniture, paving and paint for modern backyard ideas, as the result will be a more cohesive and impactful garden design.
'Utilise natural light to create a dynamic effect,' says landscape architect Rituparna Simlai, of Miami-based Studio Arth. 'Light filtering through exposed areas can choreograph the way we perceive the plants and their surroundings. This dynamism helps create the illusion of a more spacious backyard.'
Rituparna Simlai is the founder of Studio Arth, an award-winning landscape architecture firm based in Coconut Grove, Miami. The studio's philosophy is to 'design with purpose', fostering a sense of oneness with nature. With a masters degree in Landscape Architecture from Harvard University, Rituparna has over 15 years' experience in landscape and architecture. She has worked on award-winning projects in New York, Miami, California, India, Singapore, and the Caribbean. She was also honored with the Exceptional Emerging Professional Award by the Florida chapter of the American Society of Landscape Architects (ASLA) in 2020.
2. Borrow an adjacent landscape to 'extend' a boundary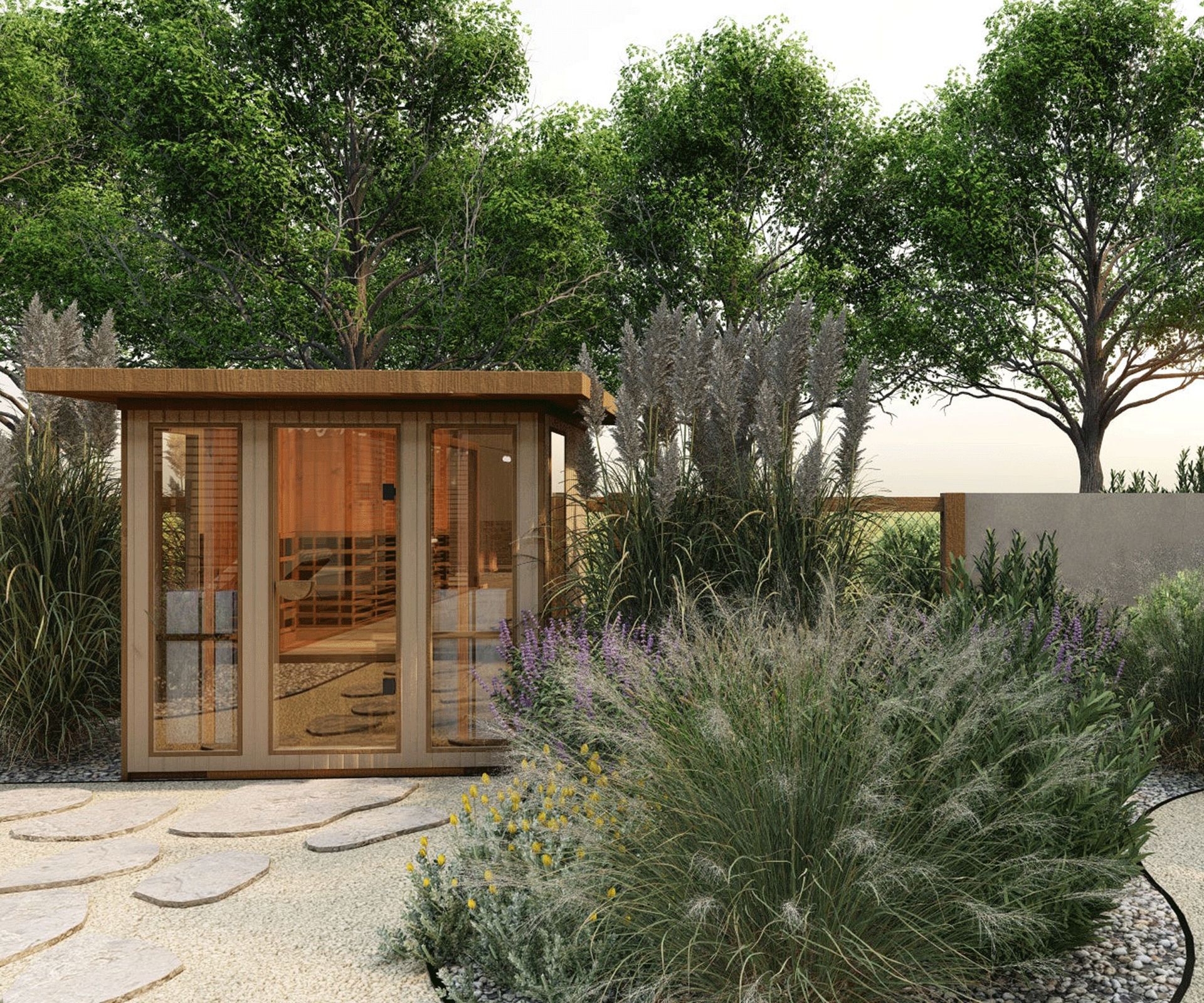 Exploit a borrowed view from the neighboring landscape to create a strong vista, where the backyard design and adjacent trees combine as one entity so you're not sure where the garden ends. Looking through planting to 'borrowed' trees beyond is a common design trick for small back yard ideas to connect your yard with the surrounding landscape and stretch the space.
Another trick is to create a pretend 'view' by integrating a mirror into your design, based on the trompe l'oeil idea of deceiving the eye, and creating the optical illusion that the garden goes on beyond its boundaries.
We love this neat infrared sauna too, which fits 5 people and is available here from purelyrelaxation.com. It definitely counts as a great example of using a small space creatively.
3. Soften and disguise the perimeter with tall planting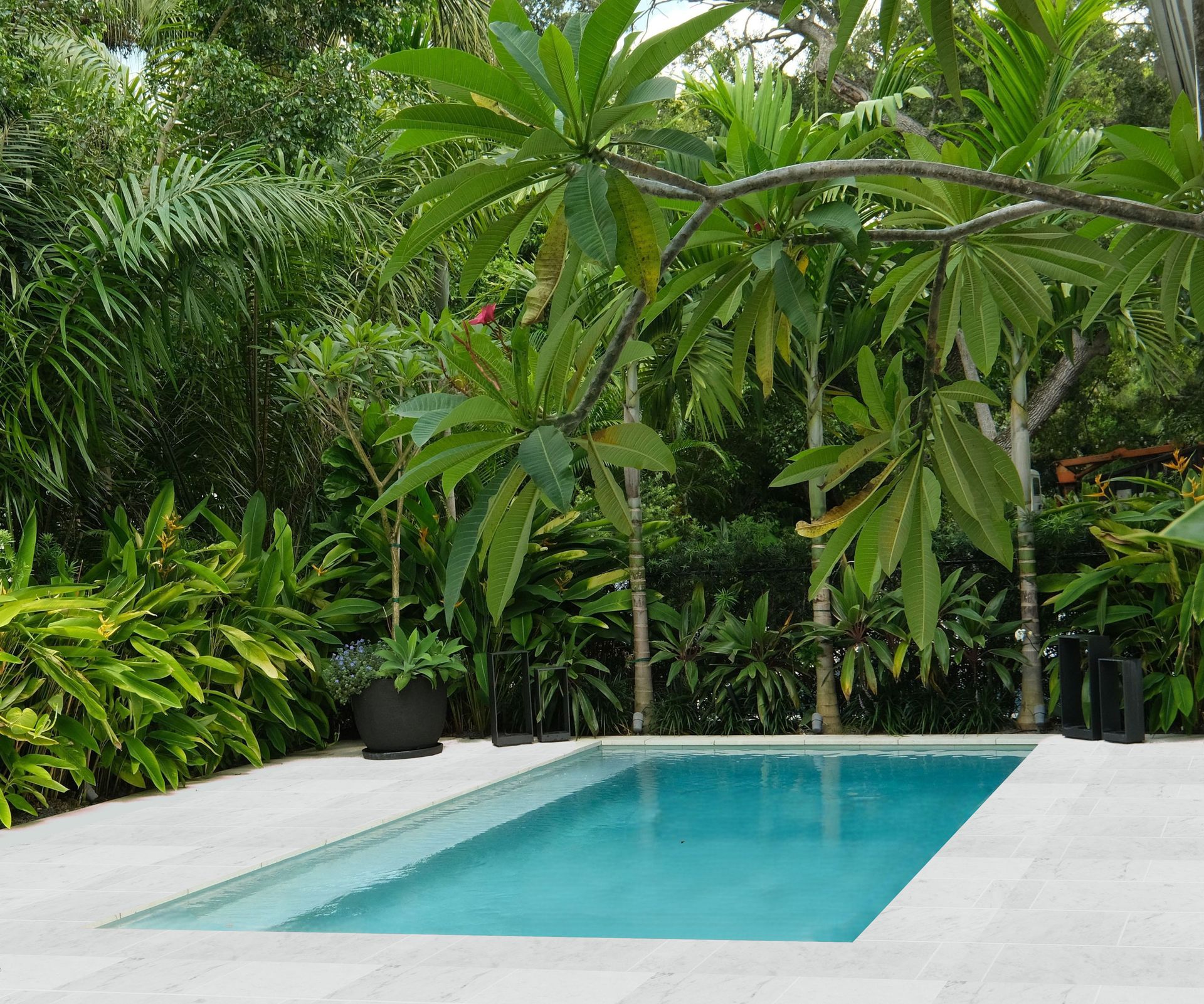 'If you're looking for ideas on how to make a small backyard look bigger, try including layered planting along the boundary wall, and conceal it with dense vegetation. This layered approach blurs the boundaries, making them less defined and, in turn, expanding the perception of space,' says Rituparna Simlai.
Plants are key to greening up small backyards and adding to their decorative appeal. It's a great opportunity to take advantage of vertical growing options that don't take up much space. In addition, it helps pool privacy ideas, letting you create your own private paradise.
Try to stick to a simple planting palette of no more than two colors in addition to green, and limit how many different types of plants you use as too many will look crowded and fussy. One of the best combinations to try is a mix of structural evergreens and seasonal planting.
It may seem counterintuitive but using larger plants and trees will draw the eye upwards and make the space feel less congested. The same is true if you are planting in containers. Opt for the biggest size of pot you can find rather than using lots of small ones.
4. Mix things up by including different levels and steps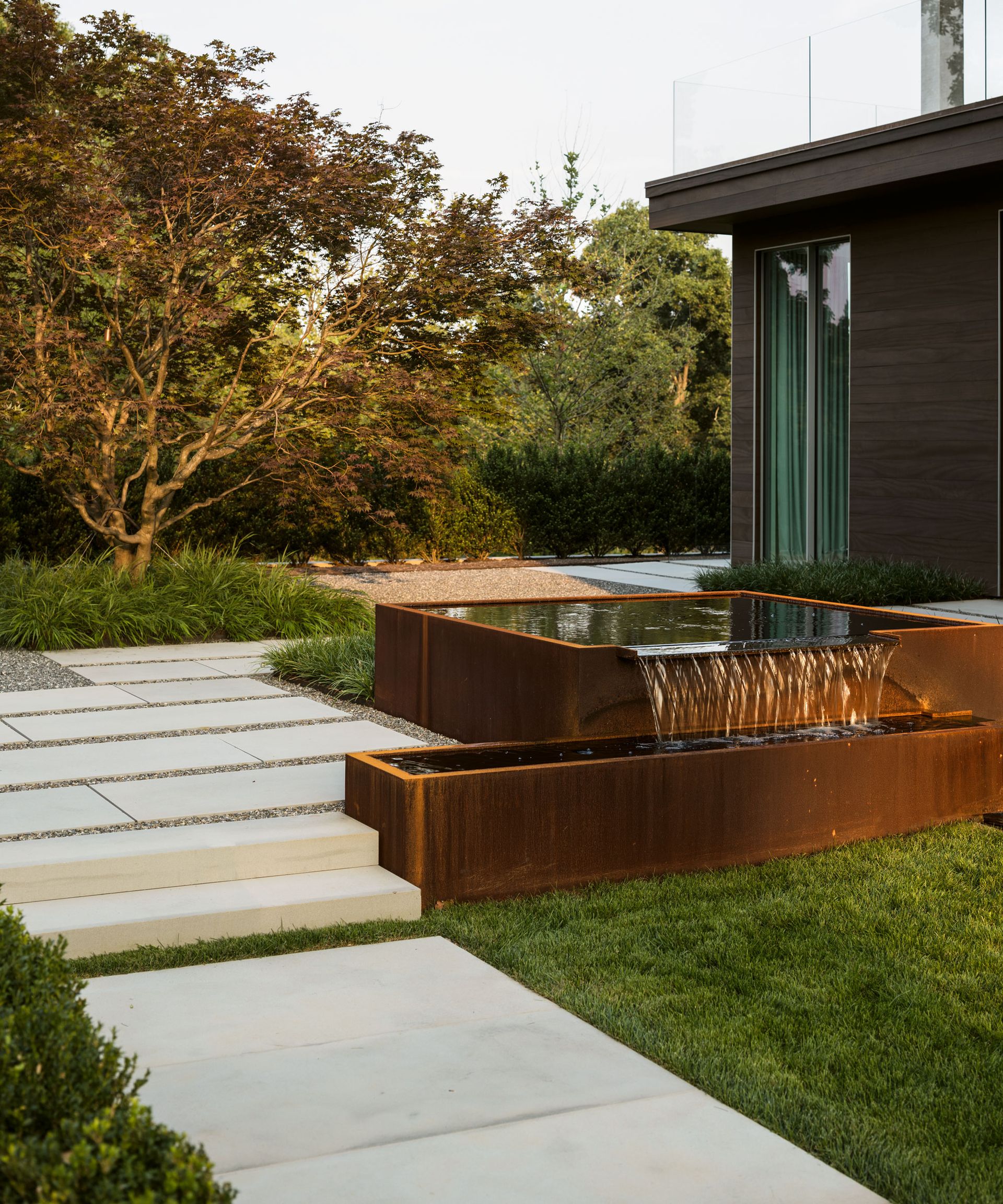 A combination of terraces, decked areas, steps, raised beds with planting and shallow water features can help if you're looking for ideas how to design a sloping garden to create a stylish multi-level space. Using a series of steps to link different levels allows you to make your way through the yard in a relaxed way and also helps it feel bigger by subtly creating additional areas using the height in the space.
'Employ varying levels or materials as part of your sloped backyard ideas, but limit transitions to 2-3 levels,' says Rituparna Simlai. 'Too many transitions can have the opposite effect by looking cluttered and overwhelming the senses. Thoughtful transitions with well-articulated spaces add depth to the experience, making your backyard space seem much larger.'
Multi-levels yards work well with zoning too. As you arrive at each level it's the perfect opportunity for positioning seats for relaxing around a fire pit or spreading yoga mats for a workout space.
5. Use climbing plants to lead the eye upwards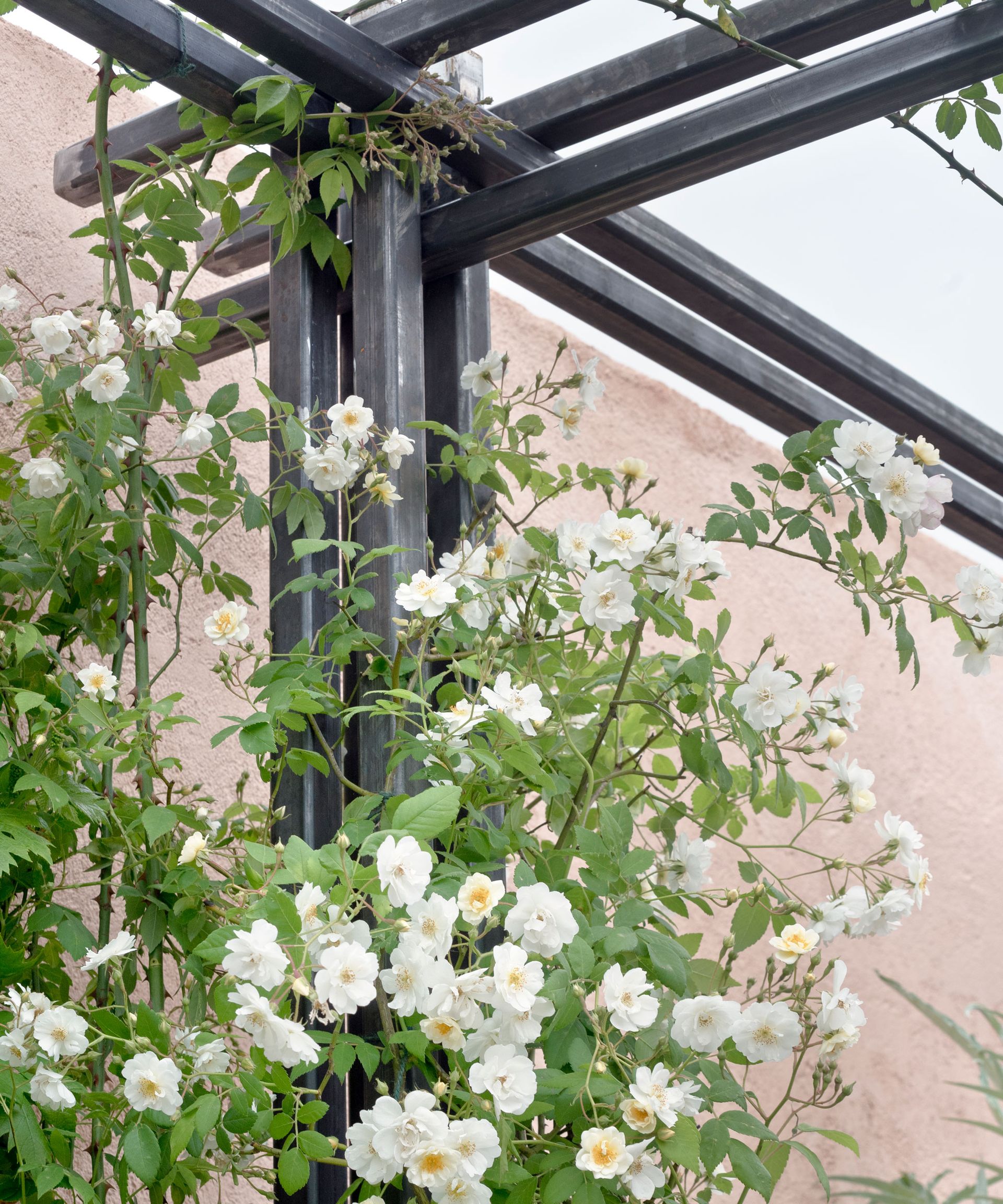 Climbing plants and wall shrubs are essential for increasing planting opportunities in small backyards, as well as reducing the often dominant effect of built structures like sheds, pergolas and tall fences. 
They are the perfect choice for small spaces as they have a tiny footprint yet can green up boundaries quickly, which is especially helpful if you want to mask an ugly view as part of your townhouse backyard ideas or disguise backyard clutter that encroaches on your space. 
As well as enhancing your yard, the best climbing plants will twine up a vertical support and this encourages you to look upwards for a visually interesting effect, which subtly enhances the feeling of more space.
Choose evergreen climbing varieties like clematis armandii or star jasmine for year round interest, or go big on blooms with prolific summer flowerers like the best climbing roses, wisteria or hydrangea petiolaris.
6. Divide up the space then slowly reveal different parts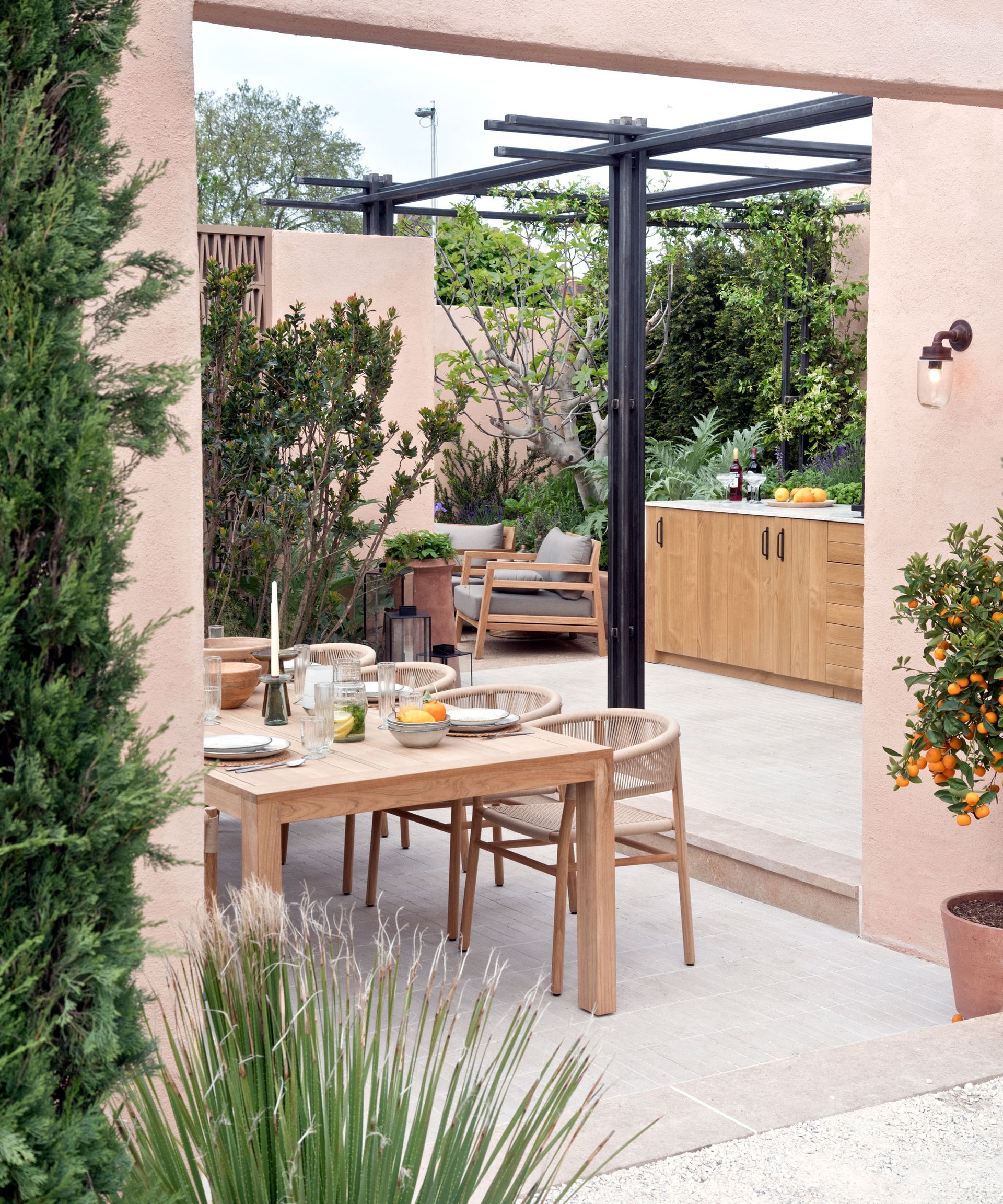 One of the classic tricks designers use to make a space feel bigger is to break it up into smaller areas, known as garden zoning. Dividing a small backyard into zones is a good way to add interest and intrigue. 
It's easy to create separate areas with pergola ideas and ornamental screens, or go one step further and build a more permanent feature like a dividing wall. Either way, the idea is that you don't reveal the whole space at once.
'One way to make any space feel bigger is the anticipation of more space beyond,' says Emily Kettlewell, principal of Sanders Architecture in Austin, Texas. 'Views are typically hidden, then revealed as you proceed through the space.'
The 'slow reveal' creates a sense of space as you're not sure what lies around a corner. Create a surprise, such as a secluded seating spot behind a decorative screen, and you will get the sense of a 'journey' through the garden. This works in even the smallest backyard space.
7. Reinvent a forgotten corner by creating a new space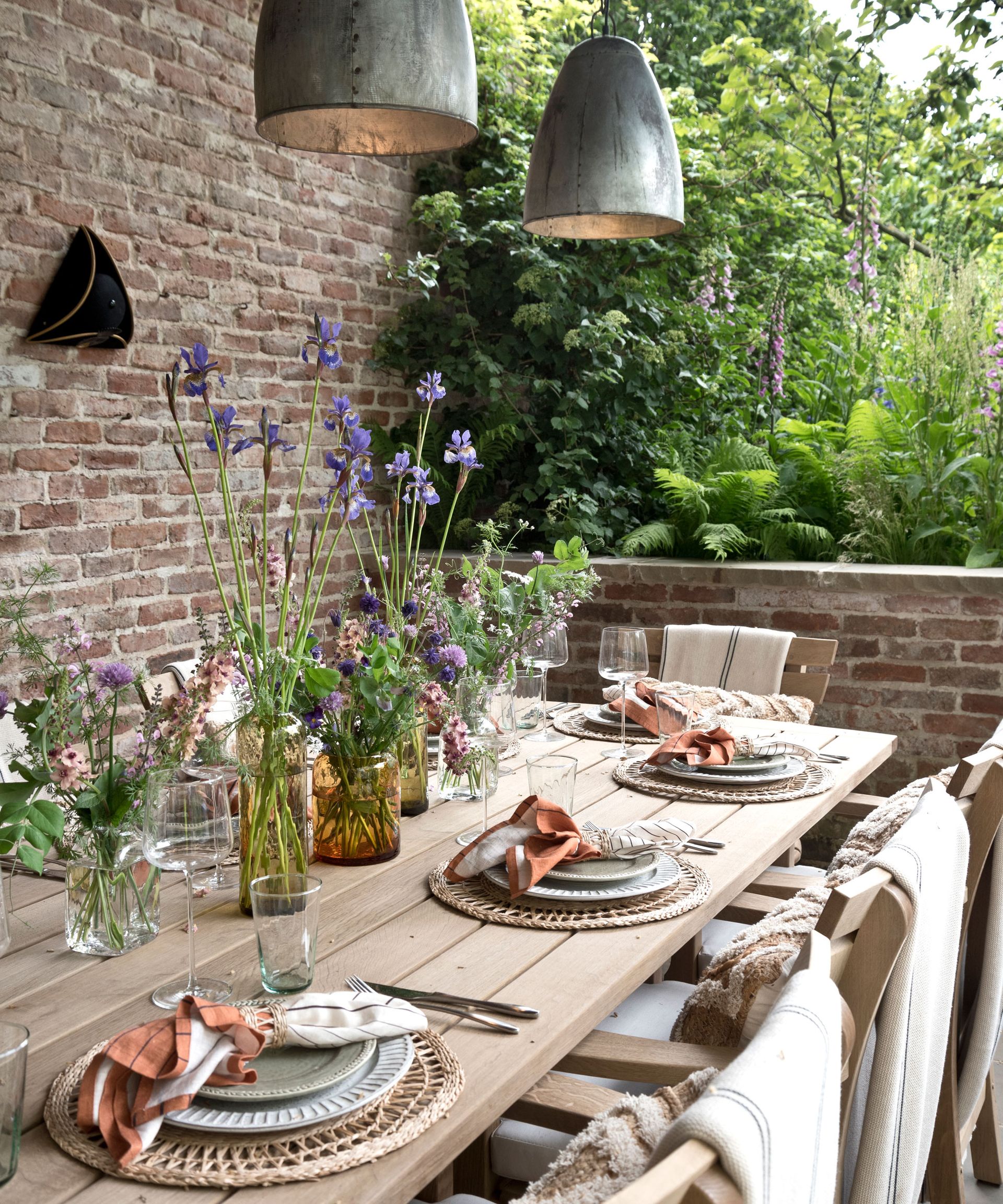 It's important that every small backyard is used in the most practical way. It's a precious resource that can be easily tweaked if you feel it's time for a makeover that will better suit your lifestyle. Sometimes all that's needed is to look at your space with a fresh eye.
When coming up with ideas for a small backyard, remember that every inch counts. There may be a forgotten corner, for example, that's not really achieving anything that you could turn it into a dedicated space for outdoor dining, entertaining, relaxing or exercising.
There are plenty of furniture options suitable for small backyards, patios, balconies, and terraces. Look for compact styles to fit your specific space, lightweight options that are easy to move around, and foldaway styles.
8. Use curvilinear design to create an illusion of space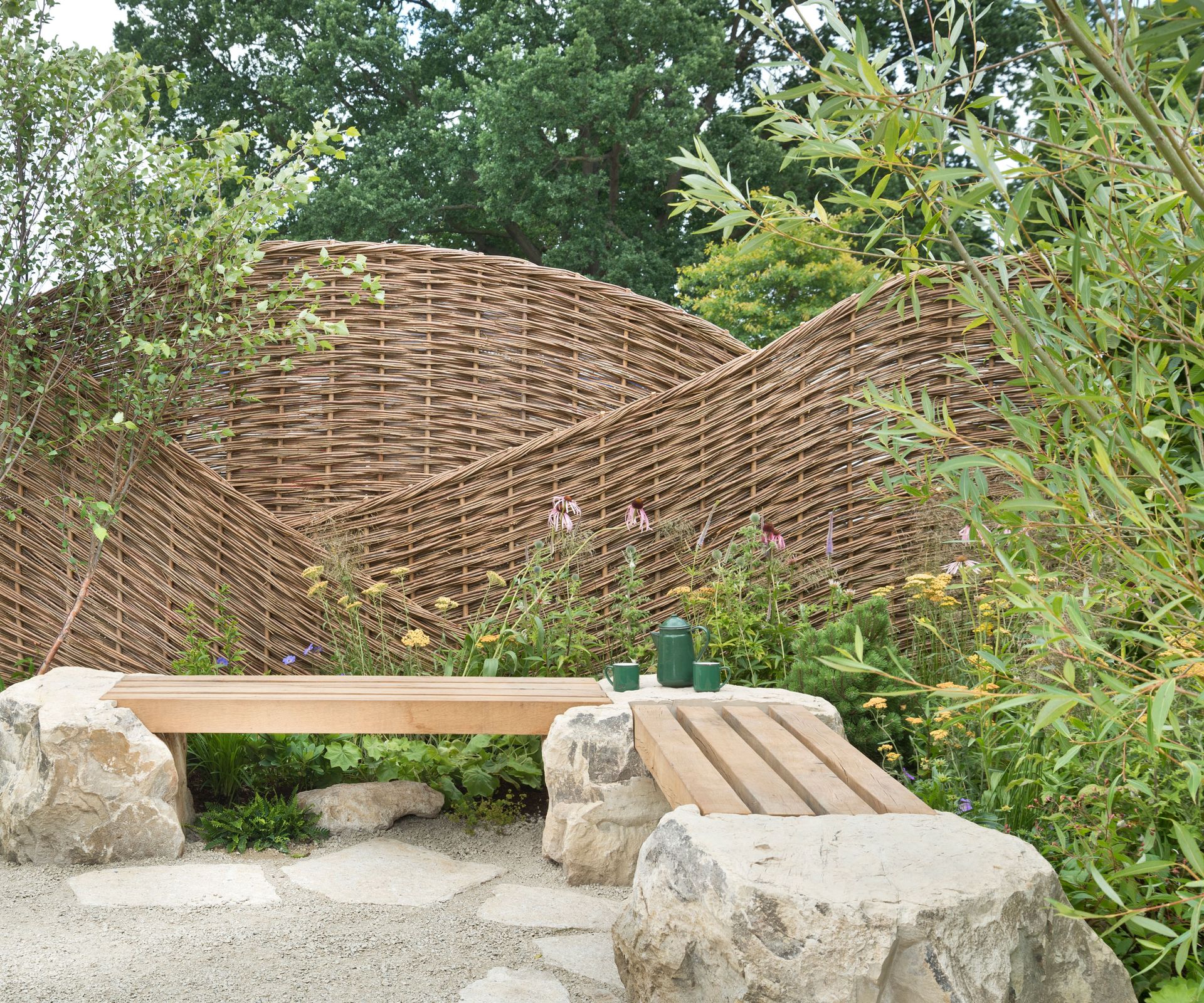 Linear gardens and rectangular lawns don't need to be the norm in small backyards. Instead introducing shapes into your garden is a simple and straightforward way to create the illusion of size if you want to make a small garden look bigger. 
Using curvy shapes as part of your backyard design ideas is a clever hack that can make a small space look and feel larger. Curvilinear design works well in small backyards as it helps to create calm, harmony and flow, as well as bringing a sense of movement and depth. 
Curves can be used to create layers of interest when paired with ornamental grasses and tall flowering plants. Curves bounce the eye across a narrow garden too, which will make the space feel wider. Bringing curves and more organic shapes into a small backyard helps to create a more natural-feeling space.
9. Add a focal point like a sleek bar area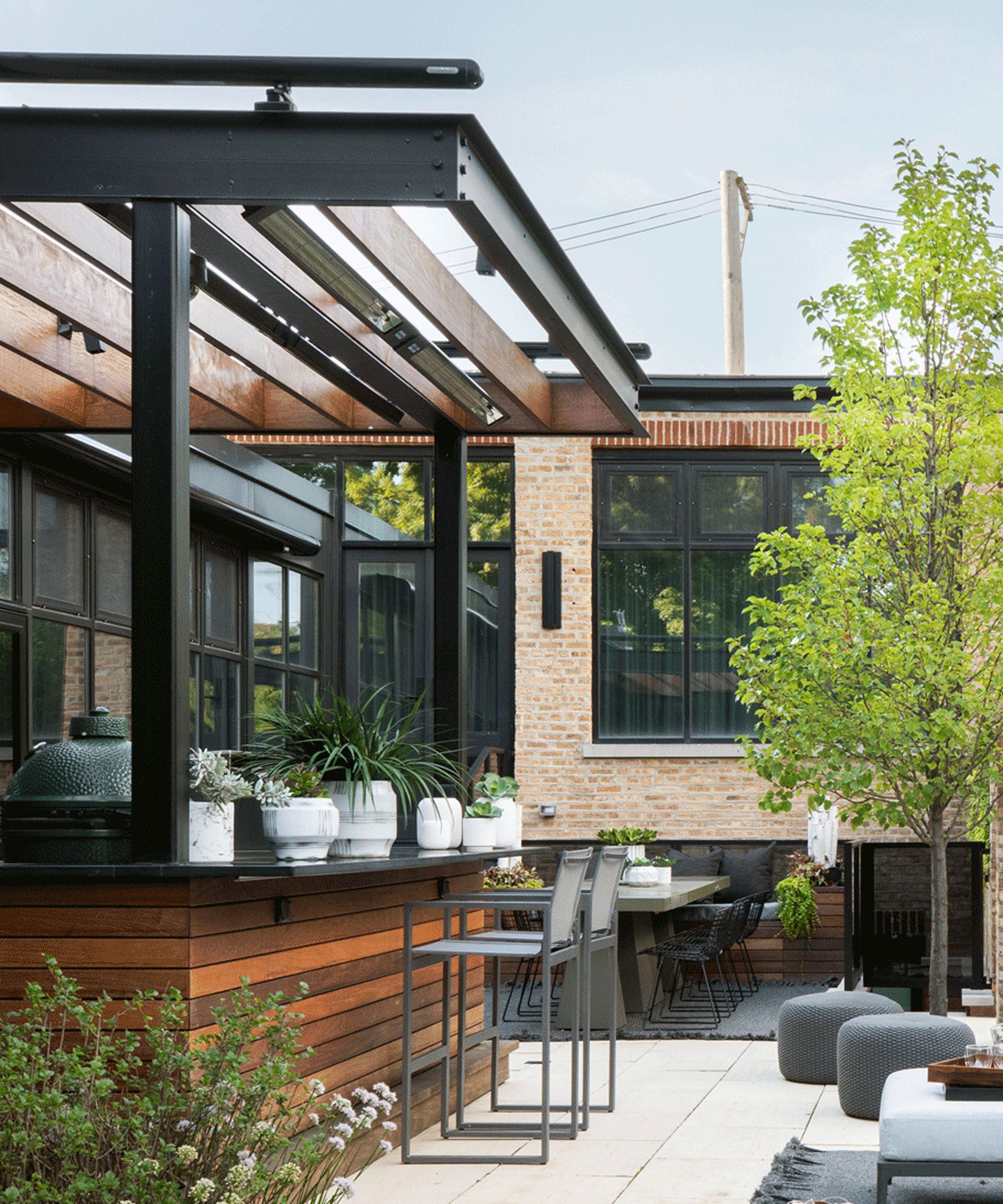 Adding a focal point gives definition to a space and is an invaluable design trick in a small yard. It works by directing the eye to a point you want emphasized, while distracting it from one you don't.
On a smaller scale a focal point can be something like a group of supersized containers, some artfully designed furniture or a piece of eye-catching garden art. On a larger scale it can be more of a design feature like a cool garden bar area, an elegant pergola or a plunge pool. 
When it comes to planting, think a row of sculptural pleached trees, an ornamental obelisk covered with flowers, or green wall planted up with succulents or ferns. All these ideas are great ways to make a backyard look more expensive too. 
In summary, it's anything that is a talking point that distracts from the small space and is a key element in how to make a small backyard look bigger.
10. Be sure to include a reflective water element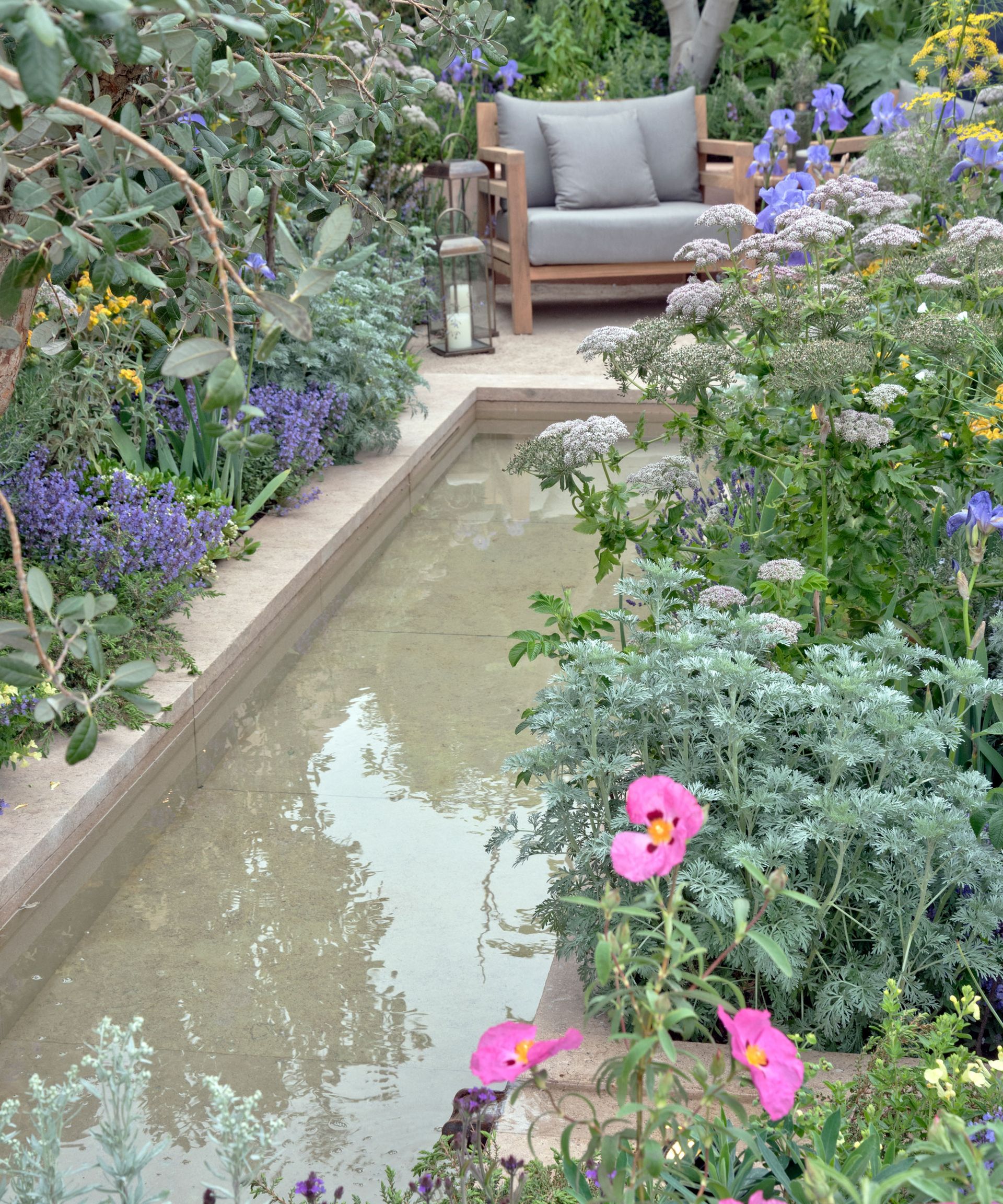 If a tranquil place to sit and feel immersed in nature is top of your wish list be sure to include a water feature idea. It's ability to introduce light and movement into a space can transform your small garden design.
You don't need acres of space to include a water feature that blends in with the overall design of your garden. It's easy to add one to even the smallest of spaces and this will create a cooling, calming focal point that draws the eye by bouncing light off the reflective surface.
A pool of still water acts like a mirror, reflecting the sky, clouds and trees, and bringing light and movement into your backyard. Even the smallest amount of water adds a sense of calm to a confined area.
It's also a key element if you want to create a more slow-paced experience in your small backyard.
FAQs
Can garden zoning make a small backyard look bigger?
Yes, garden zoning can make a small backyard look bigger because it will help it to feel purposeful. Garden zoning is when you divide your samll backyard space into deliberate sections, whether this be a dining area, a vegetable patch, pathway or a wild area of planting. For optimal design aesthetic, these spaces should be created to flow into one another, whilst maintaining their unique use. 
Can a pool make a small backyard look bigger?
You can include small backyard pool ideas on your wish list, but to help make the space look bigger, the key is to keep the design simple and use bold, structural planting to create a pared back, contemporary look. 
---
Modest-sized backyards may not have the room of larger spaces, but they do present unique opportunities to create beauty and interest, just on a smaller scale. Don't forget the importance of creating a wildlife friendly garden too. Every backyard, no matter how small, should aim to embrace bio-diversity in some way.
'The key is to utilize the available area efficiently, with a backyard that combines eye-catching design and creates a haven for pollinators using plants that attract bees, butterflies, and hummingbirds,' says horticulturalist Noelle Johnson, author of Dry Climate Gardening, available from Amazon.
You can find out how to plant a garden for pollinators to create a space where wildlife can thrive as part of your plans to make your small backyard look bigger.